Pergola Height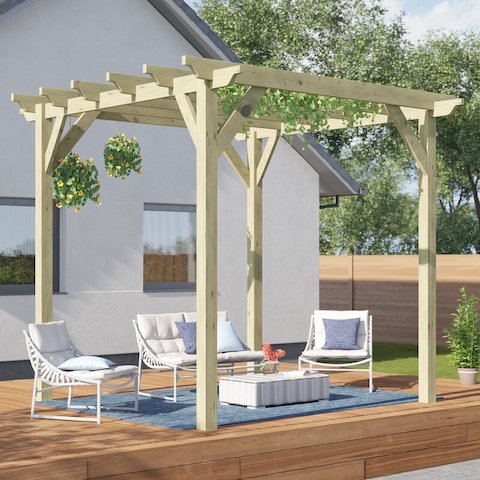 Giving some thought to your pergola height, before beginning the build, is always a good idea.  Too high and it might stick out like a sore thumb; too low and it could mean a sore head!
Several factors need to be taken into account before you start:
The size of the pergola, it's posts and rafters
The depth of the rafters and beams
Any planning permission needed
The height of the people using the pergola
Hanging features such as plants, lanterns, drapes and decoration


Let's take a look at each one, in turn, and afterwards we'll see what is involved, height-wise, when we build an attached lean-to pergola.


Size of the Pergola Posts and Rafters
It may seem that the ideal pergola height would always be the same. Not always.  There can be significant differences in height depending on the type and size of pergola.
A pergola with 6" posts and 10" deep rafters will look better taller, whereas a small pergola with 3" post and 4" deep rafters can be built on the shorter side.  Some of the really sturdy pergolas can be around 12ft to even 20ft tall, but of course planning permission needs to be carefully explored with these larger structures.
Here's a fairly standard pergola showing its dimensions.
Depth of Rafters and Beams
As you can see in the diagram above, the total pergola height is 2470mm (8ft 1") to the top of the main rafter.  In reality, the height of the pergola is the total height minus the depth of the rafter (the depth of these rafters are 6"), so take 6" away from 8ft 1", giving 7ft 7". This is because the useable height is from the ground to the underside of the rafter rather than from the ground to the top edge. Great for this particular pergola.
If it were a 10m pergola with 8" posts, 8ft high would look a bit squat, and therefore a pergola of these dimensions would benefit from an extra foot or two.
How Tall are Your Visitors?

I say 'visitors', but it may only be used by you and your family, or even just you, if you like your own space. Nevertheless, the same principles still apply.
Here, Jimmy is standing under a pergola beam.  Thankfully it's early in the evening and he hasn't had too much to drink. 
At 6ft 2" the beam only just clears his head (he's 6ft 1"), something that needs serious consideration when people are socialising! 
Ooh, that's close!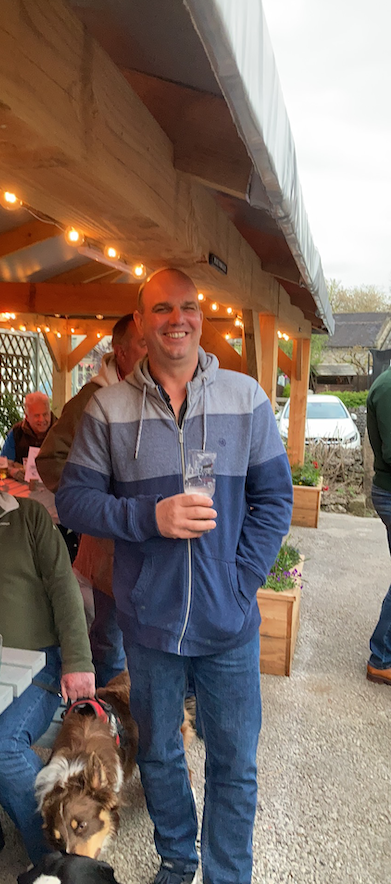 Even though these beams are seriously chunky, the pergola - strictly a gazebo (when it has a roof) - looks perfectly OK in this setting.


Planning Permission
This is one of my two most frequently asked questions!  
Most garden pergolas will be absolutely fine, as long as they are away from the garden boundary and not blocking the neighbour's view.  If unsure, find all you need to know about planning permission here.
This pergola was made from the corner pergola plans, and shows how Nik and Helen have taken their neighbour's view into consideration, with their pergola nestled snugly into the corner, backed by their fence. 
The placement of the pergola against the natural Yorkstone, with the plants and modern furniture looks amazing. What a fantastic pergola! Very true to the plans, so standing at around 71/2-8ft.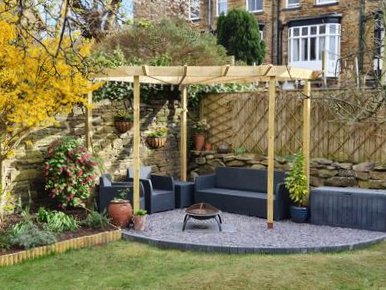 Climbing Plants and Trailing Accessories
It may be that you prefer the clean lines of your pergola to be left as they are, especially if it a more contemporary design, although hanging statement pieces, canopies and drapes are very 'in' at the moment.
Erica built this amazing modern pergola with a hanging light centrepiece, and how fantastic it looks! But you need a bit of extra height for that.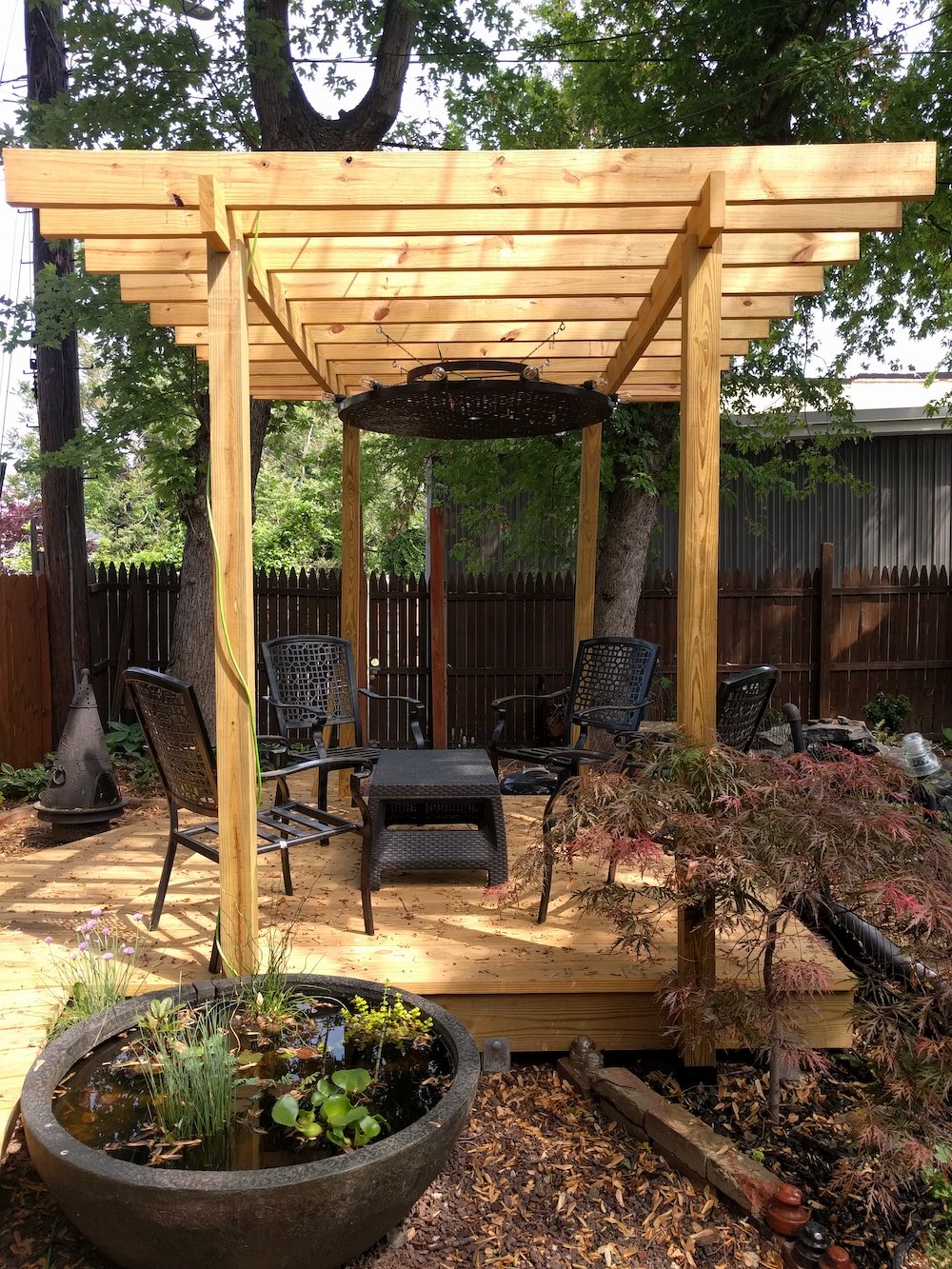 The traditional pergola, however, can be so beautiful with roses, clematis and other beautiful climbing plants trailing through the rafters.
Simply stunning!
It's just a matter of making allowances for the thickness of the plants or hanging accessories when you are planning your pergola.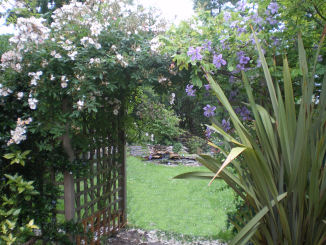 Building an Attached Lean-To Pergola

Esteban asked this question, a question that comes up quite a lot:
I'm building an attached pergola 16ft x14ft. 
From my concrete slab to the soffit of the house I have 7ft 4" which I think is too low.
My biggest issue is trying to go higher than the soffit of the house.
Can you give me any recommendation for this and specifications on what size wood and everything I would need to build it? 
Thank you in advance.

It's possible to make any size pergola from the lean-to pergola plans.  However, it can be a challenge to find out how to raise the height of a pergola when the soffits are on the low side.
Here, we can see that the soffits above the pergola are high enough for the ledger to sit under. Esteban's are fairly low, but maybe not so low that they prevent him from building his pergola as normal.
He says 'from my concrete slab to the soffit of the house I have 7ft 4"'.
This was my answer:
Yes, it's tricky with the clearance issue, Esteban.
The attached lean-to plans on my website can be made with any size of wood and any dimensions, so they will be fine for your needs without having to have plans drawn up.  I would suggest either a 4" or 6" post, depending on how you would like your pergola to look, with at least 6" rafters, and maybe 8", again depending on the look you'd like to achieve.
There are several options for getting around the problem of height.
The easiest is to build your pergola with posts against the wall instead of a ledger.  It will still be like an outdoor room, just not actually attached to the house.  However, if you'd like a true attached lean-to pergola then another solution is needed.
This website is for beginners and some of the solutions are more suited to professional contractors, so be certain first that your height really needs to be raised.
Your height from ground to soffit is 7ft 4".  Remember, we need to take probably six inches off this height for the rafter depth, and so this leaves 6ft 10" for people to walk underneath.
Is this enough?
Look again at the picture of Jimmy standing under the beam.  This is 6ft 2" from the ground to the underside of the beam. You would have another 8" more to play with.
Only you can make that decision, although here are some other ways around your concerns in this excellent video showing the various options for getting around the particular issue of adjusting the height of a lean-to pergola.
Don't get too bogged down with your pergola height.  Just think it through, with the things we've discussed in mind, and you'll be fine.

Here's to an amazingly fantastic pergola!