Pergola Reviews and Testimonials
Thank you to all who have taken the time and effort to leave your pergola reviews.
It's great to have feedback so that I know I'm on the right track, providing you with the information you need, not just the information I think you need!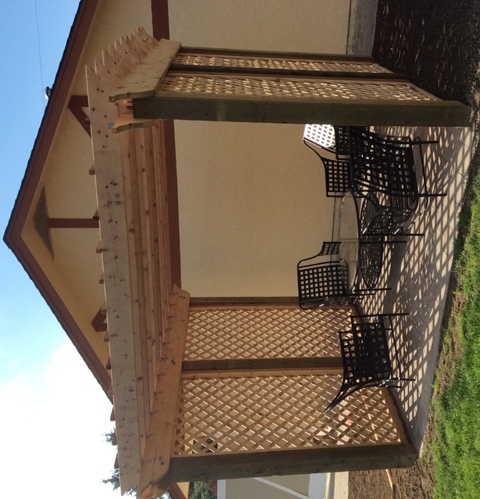 I love to hear from anyone who has built a pergola - how the plans worked, how it's being used, what it feels like to create something so wonderful. This could be anything to do with building a pergola or other garden structures, hard landscaping, plants, garden design - anything garden related, really. Your pergola reviews really help here.
If there is something you would like to know that you can't find on the site, please fill in the form on the 'Feedback' navigation link on the left-hand-side of the page. I would like to develop the site with your 'real' needs at heart!
Good luck with all your creative projects, and here's to sunny days in our beautiful gardens! 
Pergola Reviews
"What you have on this site is so great! Thank you!"
Jim. United States
"I love your website! Your entire site is incredible. I was able to get ideas for my pergola, which looks fantastic. I will be more than happy to send a photo after we stain it. I used the website recently to get ideas for climbing vines and it looks like we will be going with the trumpet vine."
Wayne
"I'm so excited to build a Pergola and some free raised beds.
Thank you so much."
Anita USA
"We are very impressed by your plans and motivated to build our own pergola. We are impressed at your magnanimity in making such accurate plans freely available for everyone. We like the idea of the corner pergola which would really suit our garden needs and were wondering when plans for this might be available. Many thanks."
Gerry.  N Somerset, United Kingdom.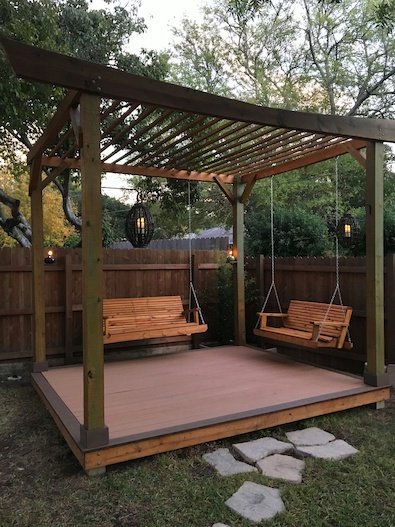 "The pergola was finished towards the end of last year. We have been enjoying many mornings and nights out there. Again I can not thank you enough for the help and guidance - keeping my head on straight."
Howard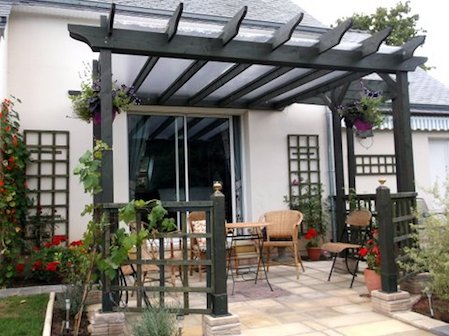 "Some photos of our lean-to pergola based on your plans, we are very pleased with the results!  They were great plans and easy to follow. Thanks."
Pam and Brian, United Kingdom.
"What a refreshing email to find you so helpful and forthcoming with assistance. There should be more people like you in the world."
Debbie. Isle of Man, United Kingdom.
"Thank you for the free pergola plans - your site is a wealth of useful information that I am looking forward to enjoying!" 
Elaine
"I am a bit of a DIYer and like to turn my hand to things so when the pergola idea took hold I needed to find a starting point - and hey presto - 'Pergola Plans 4 free'.
Whilst there were plans for rectangular pergolas on the site for free, I needed one to fit into a corner, and Di came to the rescue. We exchanged several emails, and with her experience and expertise, she modified her plans to suit my needs - all I had to do was build it!...(Thanks again - all clear now - and thanks for the diagrams).
The rest, as long as you follow the plans, is straight forward. What more can I say - just follow the instructions and use Di's experience if you get stuck - she returns your emails within 24 hours."
Ray.  United Kingdom.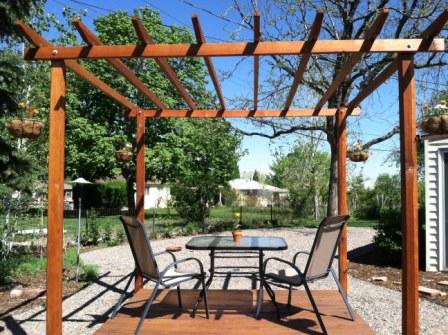 "Although we have not yet embarked upon our build your plans look amazingly comprehensive. I love the list of requirements. It might be nice to have an approximate idea of the costs of projects. I see you are intending putting the plans for the corner pergola on this fabulous site. Could you please tell me when the corner pergola plans will be available to purchase. I am planning to renovate my patio area this summer and your is the nicest design I have seen."
Michelle
Lancashire, United Kingdom.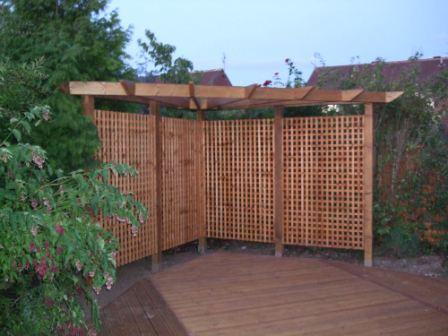 We previously built a corner pergola using your plans and it worked beautifully. We have moved house since then and we are now wanting a plan for a pergola with a contemporary look, size 3.5 metres square.

Margaret
United Kingdom.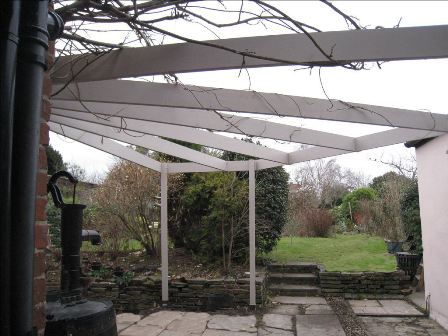 "This is my newly built and adapted corner pergola on my patio. The plans were great, very concise and easy to follow and I couldn't have managed without them!"
T****
United Kingdom.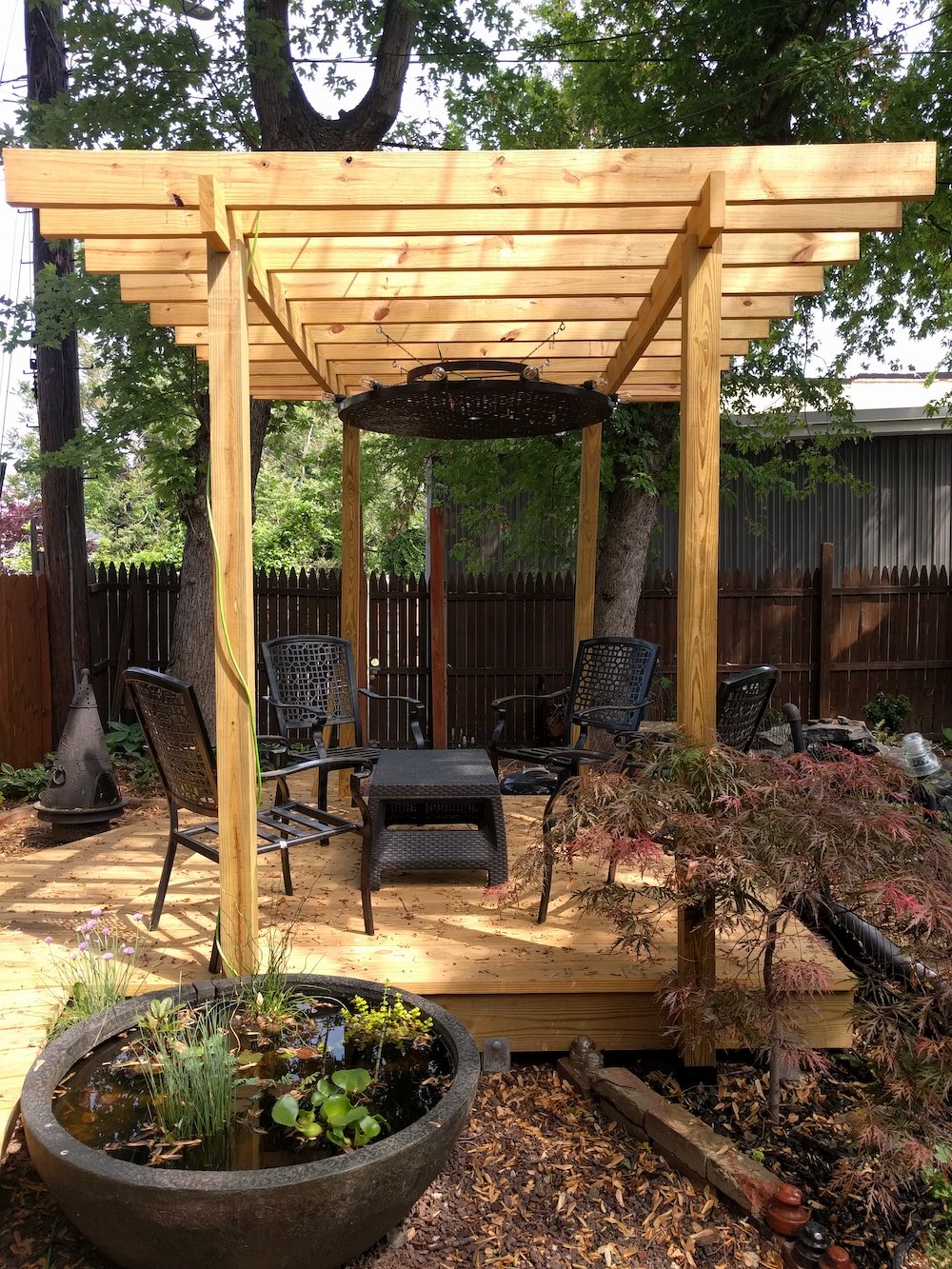 "I have just found your site. Excellent! Thank you for providing free information. I am currently building a pergola to connect my house to the garden, and I was a little unsure about some details concerning the rafters. I found the answers on your site..."
Sean 
Wexford, Ireland.
"Well done for a really useful site!"
Mike, United Kingdom. 
"Gotta hope I am better at pergola building than computerising. Thanks again for your assistance and all your efforts on my behalf."
Bernie
"Just to say thank you for the great definition of a pergola and gazebo! It´s been very useful."
Amelia, Mijas, Spain.
"I have just finished building my pergola and it looks amazing. The plans were so detailed they were easy to follow. Thank you so much for giving me the confidence to do this myself. I can't wait to get plants growing up the trellis now!"
Ian
Cumbria, United Kingdom.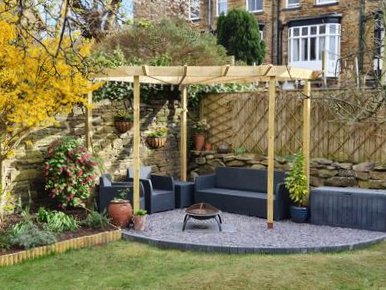 "Loved the gazebo ideas in your Ezine, but my husband built a beautiful pergola using your plans last year and we can't fit any more hard landscaping in our small garden!"            
                                                                Molly, Sydney, Australia.
"Hello, neat site you got there and very helpful. " 
George.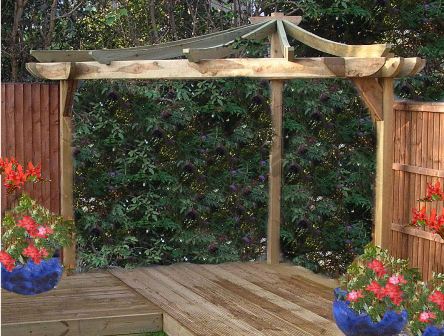 "I did not use the plans, but I did look at design tails and I used some of the dimensions. The information was excellent. This is a really useful site and has lots of information within it. Some of the links are also handy too. Thank you!"

Harry
Buckinghamshire, United Kingdom.
"Finally finished the pergola after only weekends and a few evenings. The plans were very useful. I modified them quite a bit to fit in with my deck. Thanks once again for very informative plans to work from."
Paul
United Kingdom.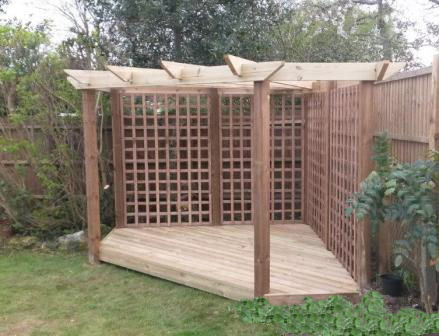 "The links to the online plant suppliers were really useful. My pergola is covered in roses and clematis and looks gorgeous. Thank you for explaining how to plant the clematis and the pruning."
Claire
London, United Kingdom.
"Built our pergola before we found your site...would have been very helpful. But love the templates for the Rafter Tails! Using Design #5.  Thanks so much."
Laura
California, United States.
"Great service, now all I have to do is build it!"
Martin
"Love your corner pergola design! I have a very odd shaped area where my hot tub sits, and this triangle design just might work."
Rebecca
United States.
"I downloaded your template for rafter tails. It has beautiful designs."
Vela
United States.
"I will definitely be using the plans and building the entire project myself. I can let you have some photos at the end, or in stages if you wish, to add them to your web site. Full steam ahead. Thanks again."
Frank
United Kingdom.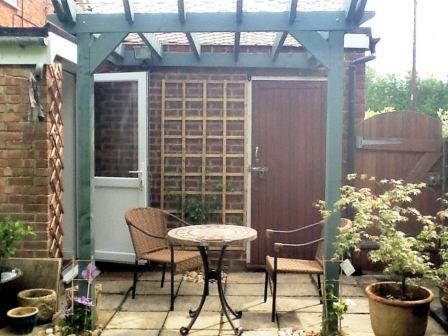 "Hello. I have found your site to be very interesting and full of ideas. I appreciate it greatly.  Now I just need the time and money to do all that I want in the garden! Thank you."
Rena.
"I would like to first thank you for such a detailed website, and to say you have been a star! I will defo send a picture when it's complete. Fingers crossed." 
Nazia.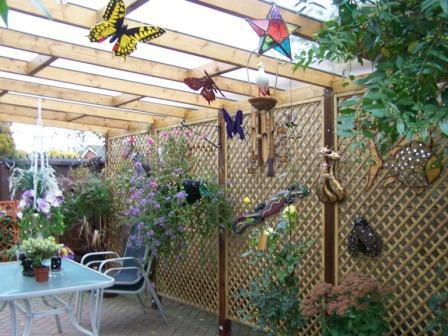 Thank you for your amazing pergola reviews! I hope they give confidence to others who are thinking of having a go, knowing that there is always help if they need it.
There's one thing for sure.....we all need pergolas in our lives!