Simple Pergola Plans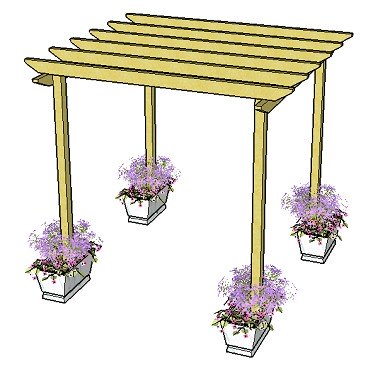 If you really have very little, or no DIY experience at all, these simple pergola plans will allow you to create a wonderful feature for your garden with the minimum of fuss.
I don't think you could find any easier!
There are two pergola designs: both quite different in style, but each very simple to build.
The first design uses trellis for the roof, so it can be built very quickly and easily. The second design has no notching at all, leaving only the rafter tail ends to be cut. You could have this wonderful pergola up in a jiffy!

Pergola Design 1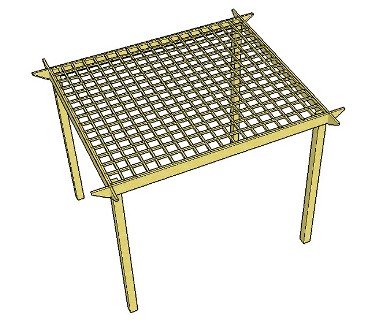 These simple pergola plans use trellis for the roof instead of many of the rafters, cutting down on the quantity of materials, time, effort and brain power. Yet the finished structure is fantastic! The trellis fits neatly inside the four rafters, giving a very clean finish.
I made one of these a little while ago and it looked fabulous. A cream-coloured paint gave it a clean and attractive finish. It had no trellis at the sides: the beautiful climbing plants grew up the posts.
You can add trellis on the sides, and even on the back, to make a shady retreat, if you wish.
If you prepared in advance, I'm sure you could build this pergola in an afternoon - or a day at the most.
Both pergola pictures show plain rafter tails. To make your pergola a unique and interesting garden structure, use one of the 18 free rafter tail templates to give it a real 'Wow' factor.
Pergola Design 2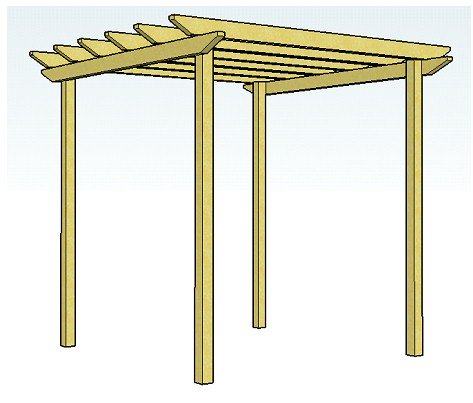 This pergola design is also very easy to build. It has un-notched rafters sitting on the side rafter supports, which makes construction extremely straightforward. With all the correct tools and materials at hand, this pergola should also only take a day to build, at the most.
"I have just found your site. Excellent. Thank you for providing free information. I am currently building a pergola to connect my house to the garden, and I was a little unsure about some details concerning the rafters. I found the answers on your site..."
Sean 
Wexford, Ireland.
Adapting the Plans
There are several reasons why you may wish to make modifications to the plans. Find more detailed information here . Although the modifications refer to the main pergola plans, the principles are the same. Also, find more specific information within the plans themselves.
Adapting the plans is easy. Both sets of plans are fully adaptable, the only restriction of Design 1 being the size of trellis you are able to source.

Viewing the Plans
You will need Adobe Reader (the latest version is recommended) installed on your computer in order to open and read this file. It's a simlpe process and it's free! Many websites use it now so it will come in handy for the future.
You can get Adobe Reader here (a new window will open so you can download without leaving this page).
If you want to open the file in your browser window, you can just click on the link. However if you want to download the file to view later, then right click on the link and choose "Save Target As" or "Save File As." Then select where you want to save the file on your hard drive.
Once you have saved the file, locate where you saved it, and double click to open.
Download the Simple Pergola Plans

It's easy to do.  Just fill in your name and email address in the form below and you will be able to download the Simple Pergola Plans immediately.
Check your inbox for the email that contains the download link and password.  
If you can't find it, please check your junk/spam folder.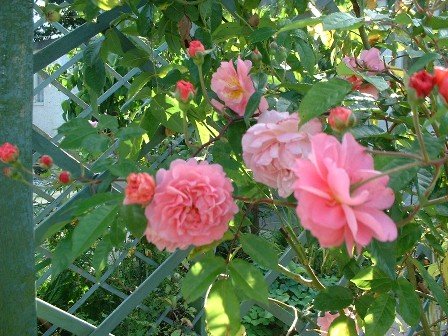 "The plans were great, very concise and easy to follow and I couldn't have managed without them!"
T****
United Kingdom.
Subscribe to 'Love Gardening' and Get Your Free Plans Now!
All the free plans are packaged together, so you will have access to: 
Here's to building the garden of your dreams...
Download Now