Patio Circle for a Pergola
A stone patio circle is an ideal base for a circular pergola, and there are some fabulous circular paving kits available in a range of styles.  
Top it off with a fantastic circular, hexagonal or square pergola kit to make it a really special place to spend time out in the garden...
...Or, why not build a DIY pergola to fix on top of your paving circle.
Either way, it will look really great!
The patio circle can be used as an outdoor dining area, a place for a statue or water feature, for comfy cushions with loungers, or even - if you're feeling very decadent - a hot tub.  The world's your oyster!

So first of all we need to build this thing...

How to Build a Patio Circle
This laying method applies to all light traffic patios.  
The example patio below was built for a free-standing hanging chair, but the same method applies to all, whatever you decide to place on it.
Mark out the circle size with a post in the centre and a piece of string to the size given in the patio circle kit. (I did this more or less exactly to size, to avoid disruption to the surrounding bed.)
Dig the hole to about 6 inches or 150mm.
Lay geo-textile permeable membrane, if you like, although it is not absolutely necessary because the hardcore, mortar and pointing will stop the weeds from coming through.
Fill the hole with hardcore to 3 inches or 75mm.
Level off with a rake and long spirit level, or a board with a spirit level on top.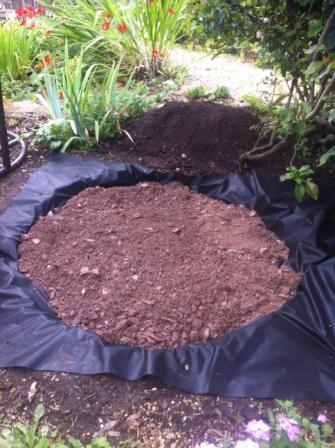 Tamp down firmly with a wooden board.  (The board used here was simply an off-cut found in the garage!)
The ground is sloping slightly to the bottom of the picture but make sure the circle of hardcore is flat at this stage.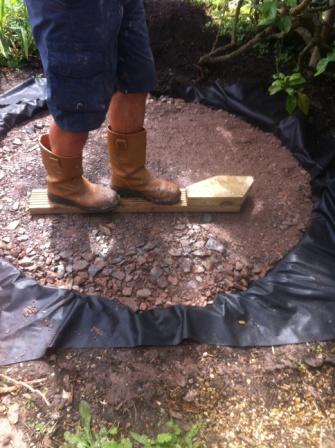 | | |
| --- | --- |
| Below is the hardcore compacted. You can use a wacker plate if you like, instead of a board, but compacting an area of this size, or even a two ring patio circle kit is easily done with a board.  Just spend a bit of time getting it really firm. | |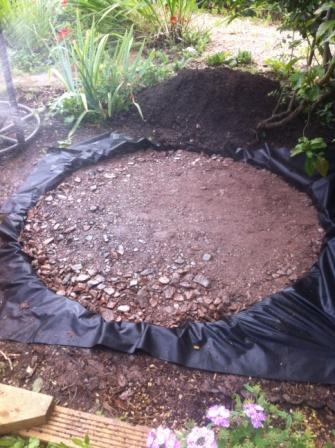 The circle is ready for the mortar now.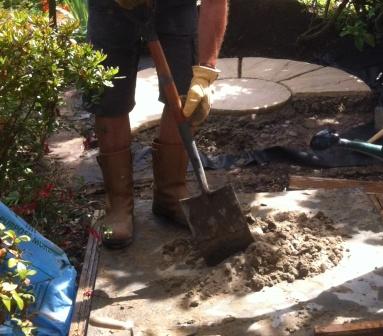 Mix the mortar on a firm board, in a wheel barrow or a cement mixer, using sharp sand and cement at a 4:1 ratio.

Not too wet, just damp so that it is holding together, but damp enough so that you can tap it down (notice the rubber mallet in the bottom right below).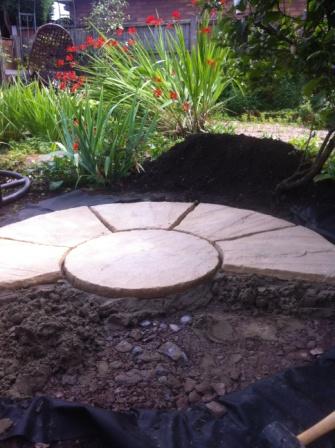 As a general rule of thumb, you will need approximately a 6 inch depth for the hardcore, mortar and paving combined: which is about 3 inches hardcore, 2 inches mortar and 1 inch paving.

Here you can see that there is a fall in the ground, so the mortar is slightly deeper at the front.

Wet the underside of the slabs first with a brush before you lay them.

Lay the middle paver first.

Put an area of mortar down that is larger than the circle.

Lay the slab evenly onto the mortar directly from above (as opposed to one side first).

Using your spirit level, tap the slab gently with a rubber mallet, so that it has a slight fall.  There is an easy way to do this...

Below, you can see the top spirit level, which shows absolutely level ground.  The bottom spirit level will put a fall on your patio. Make the bubble come 1/3 to 1/2 way across the red line.

Alternatively, put two posts in the ground across the diameter of the circle and use a string line to create the fall.

Now lay the first ring, following the spacing recommendations that come with the patio circle kit (This is a one ring circle for a small base.  For a pergola you will need a two or three ring circle, depending on the diameter).  
If your spaces are too big, you'll be left with a slab that won't fit in.  Conversely, if your spaces are too small, you'll have a big space as you finish the ring.  Try to get it just right.
Always tap your mallet well to the centre of the slab rather than near the edge.  Tap gently and in small stages.  If you hit it too near the edge, or too hard, the slab will rock, and you will have to start again.
Don't be mean with the mortar.  Lay a good amount to bed the slabs on, and move any excess further round to lay the next slab.
Check levels frequently!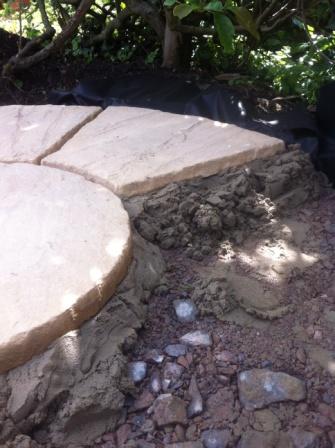 Finish off the edges neatly by running your glove around the outside and packing the excess into any spaces.
When this ring had dried 

a little 

(it must be absolutely dry on the surface!) it's a good time to point up.  By doing it when the mortar is still wet, the pointing melds into the mortar underneath the slabs to give a strong and durable whole.
Don't lean on the slabs!
Mix either a dry mix of 4:1 sand to cement, or use a fixing compound like Geo-Fix that won't crack or let weeds through. (This can make the edges of the slabs look wet, but dries out after a time.)
Put the dry mix onto the surface of the slabs and brush it in.
This next stage is really important:  compact the dry pointing with your fingers, a pointing tool or even the back of a spoon, to eliminate any air pockets and to ensure nothing will crumble and break off.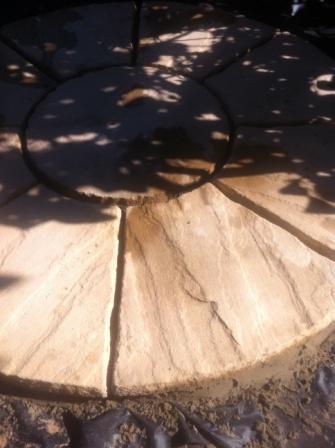 Lay another ring or two, depending on the size of your feature.

Cover the edges with turf, bark or gravel.




Let the circle dry for a couple of days...
And there we have it.
This circle isn't going to move any time soon!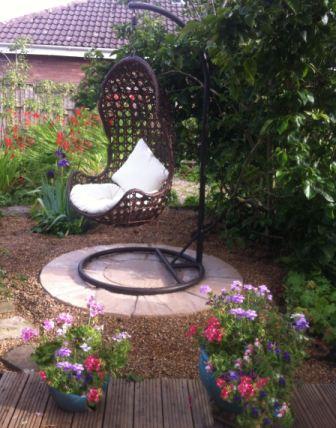 If you know what you're doing, great!  
If you feel you need more help with laying your patio: calculating hardcore and mortar quantities and amount of slabs needed; or if you are going to to lay drains or disguise manhole covers, then I do have a resource which includes a video of professionals laying a small patio, which has notes on the most frequently asked questions.
Find it here...
It's best to get it right first time.

Round Pergola Kits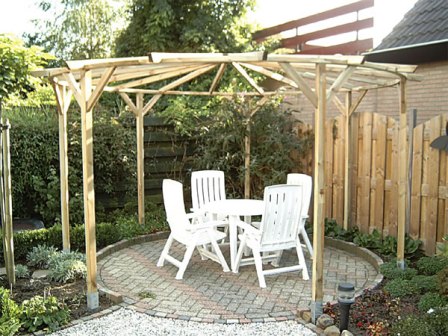 There are lots of circular pergola kits that will look amazing over your patio circle. Choose one that is a suitable size for the purpose.

Asian pergola kits tend to lend themselves to a patio circle, too, with their beautiful curved beams and rafters.

This round pergola kit is really stunning and very modern...a fantastic place to sit and bask in the sunshine!





Or, what about a wrought iron gazebo (very 'in' at the moment), which would be just the job?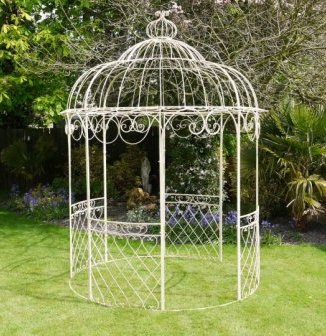 DIY Pergola
| | |
| --- | --- |
| Why not build your own pergola? Many people have built the hexagonal pergola, from the additional pergola plan series, to fit around their patio circle.  It makes a great dining area. | |
Alternatively, use the free pergola plans to create a wonderful square pergola around your patio.  Make it different and unique with the 18 free rafter tail templates.
Most patio circle kits have the option of 'squaring off' kit, too.  Not only can you find patio kits here but also ideas on how to use them in a larger patio and garden design.
Other Ideas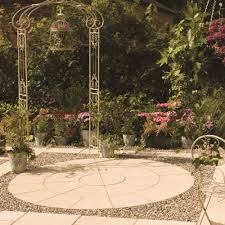 Circular patios are calming structures to have in the garden.  They bring peace and serenity to the space.  Look at this simple idea of putting an intricate rose arch as an entranceway to the patio area.  It could also be enclosed by some low fencing to give a really cosy feel or could be made into a seat overlooking the patio.
These lovely cream metal arches, pergolas and gazebos are very on trend at the moment, the intricate, shabby chic, wrought iron gazebos being ideal for using around a circular patio.
The best selection of gazebos, arches and seats can be found here... 

Be creative.  Think about how you could use different textures, heights and planting to give a truly wonderful effect.

Let's get building!