Lay a Patio
Would you like a wonderful new paved area, but are not quite sure how to lay a patio?
Whether you wish to build a stand-alone area next to the house or in the garden, or are thinking of a building a patio with a pergola, learn from professional landscapers. See how they lay a patio, in the video tutorial!
Never done anything like this before? No problem.
The step-by-step video tutorial is intended for both complete beginners, and those with only a little experience, making laying a patio a breeze.
A patio really is a great place to sit, relax and entertain. You can put all sorts of things on your patio to make it a cosy and welcoming space: loungers, seats, dining furniture, a barbeque, potted plants, or even a pergola clothed in beautiful climbing plants...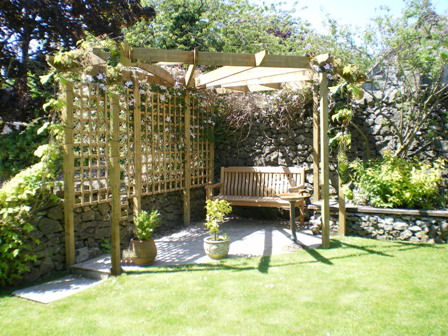 Building a patio is a manageable DIY project, even for someone who has little or no experience. There are, however, a few tricks of the trade that can help you to have a fabulous patio that will last for many years to come.
It's amazing how many people appear over the garden fence when you begin to lay a patio, giving advice on how to go about it. It's really great that everyone takes an interest! It may prove really useful in finding recommended retailers and borrowing tools that you may not have.
However well-intentioned the advice is, it can be a little confusing listening to all the different methods. It's better to get it right the first time round, rather than having to rectify matters later on!
Frequently Asked Questions
eople often ask me how to lay a patio under their pergola...
How do I lay a patio? I've heard lots of different ways to go about it but am not sure which to choose.
Which comes first - the patio or the pergola?
How do I attach the two together?
What method should I use to lay the paving?
Do the posts stand inside or outside the patio?
How do I attach the posts onto an existing patio?
How do I stop the patio slabs from wobbling?
Can I disguise drain covers?
I need drainage. What should I use?
How do I calculate the amount of hardcore, mortar and paving slabs?
Can I lay a patio over existing concrete or slabs?
Should I lay membrane before I lay my paving slabs?
...so I made a video, showing how a professional landscaper turned an old tarmac yard into an attractive patio area.
I chose this example because it covers all the main areas of construction that you may need when you lay a patio and is fairly typical of the size of project that you may be doing.
The example shows the processes and techniques that can be used for all light domestic use patios, however big or small, whether you just want to lay a patio on it's own, or would like a patio under a free-standing pergola, a seated arbour, a corner pergola or an attached lean-to pergola. You may not have to install drains or disguise unsightly drain covers, but it's all there, just in case.
All you have to do is choose your paving slabs!
The video also comes with free Supplementary Notes that cover frequently asked questions and explain how to calculate quantites of hardcore, sand, cement and paving slabs, and also how to build a patio and pergola combination.
How to Lay a Patio: The Video Tutorial
Digging Out
This shows the tools needed, the depth of the excavation, and depths of the materials used to form the solid base under the slabs that is vital to the success of the project.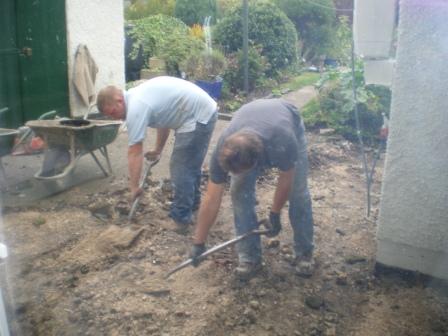 Installing Drains
See how to take surface water away from the house and patio if there is nowhere for the water to drain.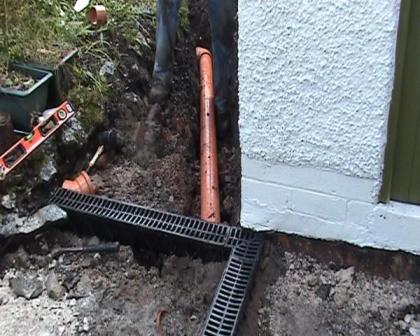 Replacing Drain Covers
Drain covers can look unsightly when located on the patio. Learn how to disguise the covers to match seemlessly with your paving. 
Laying The Paving
This shows the correct mix and consistency of the mortar, the best professional tips and techniques, with the tools to use to lay a patio, and, most importantly, how to make sure that your pavers stay strong and firm...with no wobbly bits! 
Pointing
This can make or break a patio! Make sure your paving looks great...and is durable. Learn how to do this properly, and your patio will look fantastic for many years.

Supplementary Notes
How do I work out how much hardcore, sand and cement to buy?
How do I calculate the number of slabs I need to buy?
How long will it take to build my patio?
Can I lay the paving at any time of year?
How long will it take for my patio to dry out before I can walk on it?
What happens if I have nowhere to drain water?
How much fall should I put on my patio?
Do I need a fall on a patio that stands alone, away from the house?
Do I need to use membrane under the patio to stop weeds?
What does 4:1 mean?
Can I power wash my patio?
Which is best, Geo-Fix or dry mortar pointing?
Can I lay a patio on existing concrete, or old paving?
Is it necessary to wet the slabs before laying them?
Will my paving slabs be slippery?
Is there a way to break up concrete without using an hydraulic breaker?
Do I need to smooth the jointing compound?
How to build a patio with a pergola.
The tools and materials needed for the project, and where to find them.

Viewing the Video Tutorial
Just click the 'Add To Cart' button, and your Supplementary Notes will be delivered to you straight away, containing the link and password for the Video Tutorial.
Want to lay a patio like the professionals? Make your seating area an attractive and welcoming space that will last for years to come.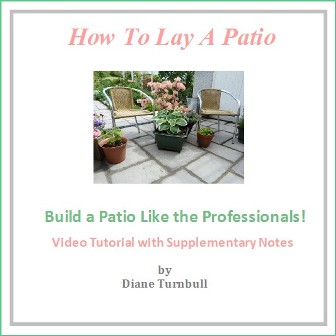 £7.97
An email will be sent containing the download link. Please check your junk/spam folder if the download email can't be found in your inbox.
Save the files to your computer to view at your leisure.
To view the video you will need Adobe Flash Player Adobe Flash Player installed on your computer. (You may already have this if you have ever watched video on the web.)
The Supplementary Notes are in pdf format.
You will need Adobe Reader installed on your computer in order to open and read this pdf file. (Again, you will probably have this installed already).
It's a simple process, both are safe to download and they're free. Many websites use them now so they will come in handy for the future.
If you do have any problems or questions, please do contact me using the contact form.

Patio and Pergola Combinations
If you would like to build a pergola on your patio using the pergola plans, read more here.

A Patio Base For A Pergola
Pergolas with a patio base look fabulous and are a good surface on which to place accessories.
Both pergola and patio are achievable, and very rewarding to build, at a fraction of the cost to get someone in to do it for you!

Free Pergola Designs
You may use the free pergola plans to build your pergola which can be adapted to suit any situation, or there are some free simple pergola plans, which use trellis panels for the rafters to get the job done quickly and easily. Both sets of plans come with 18 free rafter tail templates.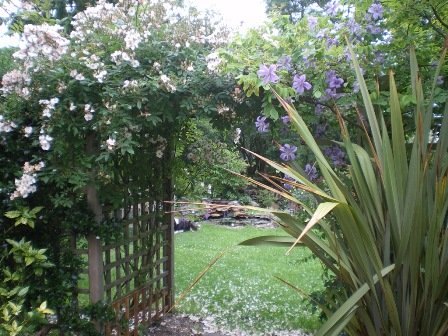 Attached Lean-to Pergola Plans
A lean-to pergola, (also often referred to as a patio pergola, an attached pergola, an entranceway pergola or pergola porch) often has a patio base. The paving slabs form an attractive and firm base on which to place garden furniture and planters.
Read more information about the lean-to pergola plans here...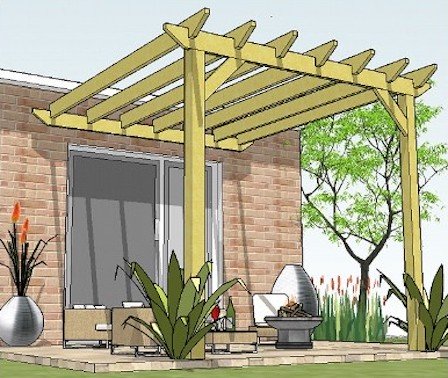 Arbour Pergola Plans
Also, there is a raised rafter pergola arch, which can easily be transformed into an arbour under which to place a garden seat: ideal for standing on a paved area.
Read more information about the arbour and arch pergola plans here...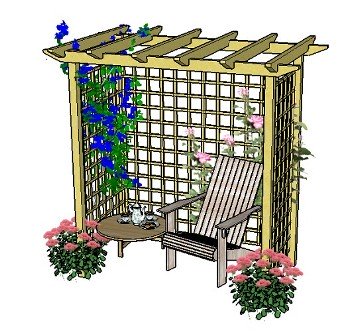 Corner Pergola Plans
Of course, the pergola and base don't have to be square or rectangular. They could be round, triangular or hexagonal. Anything goes, really, as you can see, here, under this lovely corner pergola.
Read more information about the corner pergola plans here...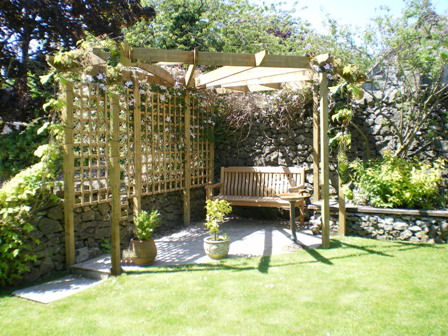 Find more information about other plans, including a wonderful hexagonal pergola design, an Asian-style dragon pergola, with fabulous curved rafters, and a raised bed planter, to fill your patio with colour! 
Paving Slabs, Patio Designs and Ideas
When choosing your paving slabs, it really helps to see examples of patio designs in order to get those creative juices flowing. Seeing the pavers in a real situation can help visualize how they will look.
It's also great if you can get your paving at a really good price!
A few years ago I discovered an online supplier that not only sold paving slabs at a fantastic price (much better than my local builder's merchant, even with my 20% trader's discount, saving me hundreds of pounds!) but who also provide really excellent customer service and a great website, which has many pages of patio design ideas.
They sell paving in all shapes and sizes, from natural pavers, manufactured slabs and block paving, to patio circles, shapes, walling, edging, coping and building supplies.
It's really worth taking a look. The 'Gallery' has lots of inspirational ideas for patios.
Why the Video Tutorial Will Be Great for You
They show:
Even if you have little or no experience, how to do a really good job.
The all important laying techniques that help you lay your slabs correctly first time, avoiding having to keep laying and relaying, and also avoiding any wobbly bits, saving a lot of time and effort.
The mortar mix and its ideal consistency.
Getting the correct height and fall on your patio.
How to tackle drainage and disguise drain covers as you lay a patio.
Depths and quantities of materials you will need, and how to calculate these easily.
Pointing techniques and materials, and how this can 'make or break' the look and durability of your patio.
Different tools and materials that can be used for the job, and where to source them.
Frequently asked questions addressing a range of practical issues before, during and after construction.
The various options for building a pergola with your patio.
If you fancy having a go yourself, click the 'Add To Cart' button below and you will have a fantastic new patio area in no time at all. A wonderful seating area that will last.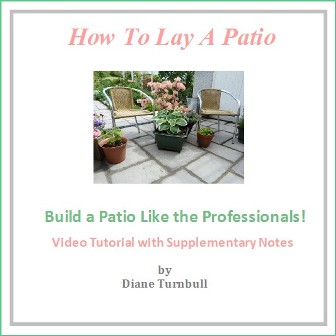 £7.97
Here's to hot, sunny days and balmy evenings relaxing on your new patio. Have a great time!