Pergola Designs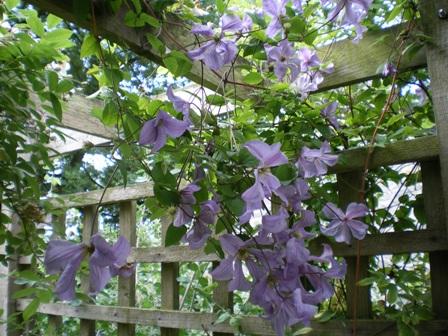 There are several ways to explore ideas for pergola designs, even if you've already decided on the general style and position of your pergola!
For instance, if you think you'd like to fill a corner, there are lots of pergola kits and corner arbours to choose from. Or, if you'd like to know how to build a pergola yourself, there are the corner pergola plans, of course.  The hexagonal pergola plans and Asian pergola plans can be used to build wonderful structures that will also fit perfectly into the space.
Keep an open mind, and it will all come together beautifully.  You might take an idea from here, and an suggestion from there, creating a really interesting and unique garden feature! 

Six Ways to Find Pergola Design Ideas
Often the best way to get ideas is to look at pergola pictures...and there are plenty of those here!
Included are plans for those who want to build a pergola (with their own bare hands!); some ideas for a whole range of manufactured pergola kits in wood, metal and vinyl (for those who would like a helping hand with all the cutting and measuring); and examples of pergolas, either made, or adapted, from the plans...and some that I've just snapped on my travels.
See examples of garden makeovers, where pergolas, gazebos and summerhouses have been used to great effect.  'Before' and 'After' pictures really do show what can be done!
Then there are the questions that I've been asked (with the answers given, of course), which often include design elements as their theme.
Incorporating a pergola into a garden design can sometimes be obvious (you know it will fit just perfectly) but do take a look at some ideas on creating a journey through the garden, adding height and interest, pergola entertaining, providing shade (or making the most of the sun!) and creating a romantic feeling.  You might just find an idea that takes your fancy!
1   DIY Pergola Plans
All of the plans were created with beginners in mind!  That doesn't mean to say that they won't be suitable for the more experienced woodworker; just that they are written in a very straightforward, step-by-step way, so that anyone can have a go!
Here are the pergola designs for the DIYers amongst us:
Free Plans:
This is a pergola made from the main pergola plans.  Any traditional pergola style can be made from these plans.  
They are fully adaptable: increase the size of posts and rafters; make the rafter tail ends curved (18 free rafter tail templates included); add trellis to join two or more pergolas together; have flush fitting, raised or un-notched rafters; have rafters running in only one direction...the possibilities for creating exactly the pergola you'd like are many and varied!
For the simple pergola plans there are two distinctive pergola styles.  Both are very easy to build, the first design using trellis for the rafters, and the second design using un-notched rafters (no notching involved).
Again, many different types and styles of pergola can be made by modifying the plans.  The plans work, whatever the size of footprint or  the size of wood used for the rafters and posts.
Additional Plans:
A simple pergola arch that can be made into a full size pergola or a lovely seated arbour.  It would be possible to have a pergola, an arch and an arbour all in the one style.
Probably the most popular pergola plans are the stunning corner pergola and the wonderful attached lean-to pergola.  Really satisfying to build, and very attractive when finished.
For the more unusual pergola designs, we have a fabulous hexagonal pergola and a dramatic Asian corner pergola with beautiful curved rafters.  
Both make good free-standing structures and ideal patio pergolas, perfect for relaxing and entertaining alike.
These seated arbour plans will be coming very soon!  The main rafters can be either curved or straight.  The plans incorporate an integral seat,  ideal for morning coffee, reading a good book, taking a break from gardening or just relaxing in the sunshine.
2   Pergola Kits:
Exploring the available manufactured pergola kits is a great way to get ideas, even if you are intending to make a pergola yourself.  There are so many to choose from.
Here are 4 examples, but there are many more where they came from:
Narrow it down to just a few that would be suitable and you really like the look of.  Then decide whether it would be possible to build it yourself (if you're unsure, just drop me a line by filling in the Questions Form) or whether you would like it delivered in kit form.
Keep an eye out on the pergola offers page, as this is where you will find some fabulous bargains.
Talking of questions, that's somewhere we can explore too...
3   Pergola Questions:
Every so often, visitors to the website will contact me to ask a question. It may be about how to build a pergola.  It might be about the best climbing plants to grow, or the maximum beam span.  Whatever it is, there are some really useful hints and tips here, with examples of real gardens. There are pictures to illustrate points, as I answer people's questions and concerns.
Many design ideas are incorporated into the answers, so it's a good place to try too.
An example is when Rupa asked whether the plans could be used to build a wedding bower and how it could be fixed to the ground, if used indoors.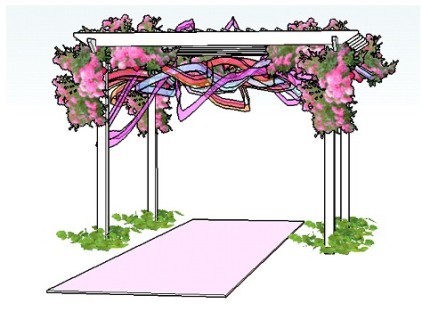 4   Pergola Pictures:
There is a dedicated page on the website that shows lots of pergola pictures: from the really simple to the more elaborate. 
Some are construction pictures, others are pergolas made from the plans, there are examples that have been adapted from the plans, and then there are pergola pictures I've taken when out and about...and some magnificent ones there are too!
The pergola pictures page shows a whole range of pergola designs: an Asian style 'dragon' pergola; attached lean-to pergolas with interesting accessories and garden furniture; fabulous corner pergola designs; screens and arches.  Most are simple pergolas that we can all build, making our gardens a beautiful and interesting outdoor space.
Some of the more elaborate designs can be easily modified to be more manageable, as with this wonderful dining area found under a pergola overlooking the mediterranean sea...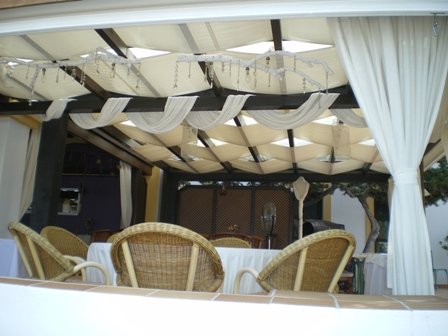 5   Garden Makeovers
A good way to envisage how your pergola will fit into your garden, is to look at some garden makeover pictures.  Some stunning effects can be achieved...and your project doesn't need to cost the earth!

6   Pergola Ideas
The pergola ideas section takes a more in-depth look at pergola designs, and how to incorporate them into your garden.  
Pergolas serve a purpose, and can often serve more than one, whether it's a fantastic outdoor room for entertaining, a beautiful, romantic, rose-covered walkway, or a simply a sunny corner where you can relax and unwind.  
So read about how to get the most from your pergola, creating a fabulous focal point for everyone to enjoy!