Clematis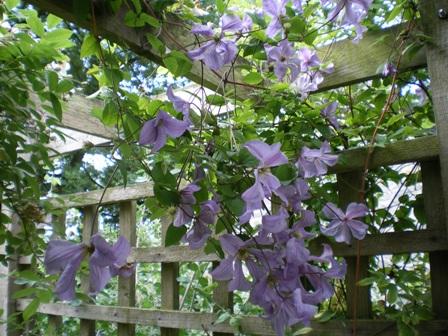 Spectacular Climbers
The clematis...mmm...if anyone asked me what my favourite climber was, this would be it!
When I walk through my garden and see the first flower of the year on its elegant stem, I still feel a sense of wonder at its beauty and grace. Not only do these climbing plants look fantastic growing over pergolas, walls and fences, they are also reasonably easy to grow.
Clematis really come into their own either when grown together or with other plants or climbers. Just picture that elegant pink rose with a purple clematis growing through it - wonderful!
And they can be grown up trees, through bushes and even intertwining with other plants in the border. Train them where you want them to go or give them a free rein to go where they please.
Choosing a Clematis Variety
There are so many varieties with a whole range of form, colour, scent and flowering time it is difficult to know which to choose. But let's be sensible - choose we must.
Here is The President in all its glory!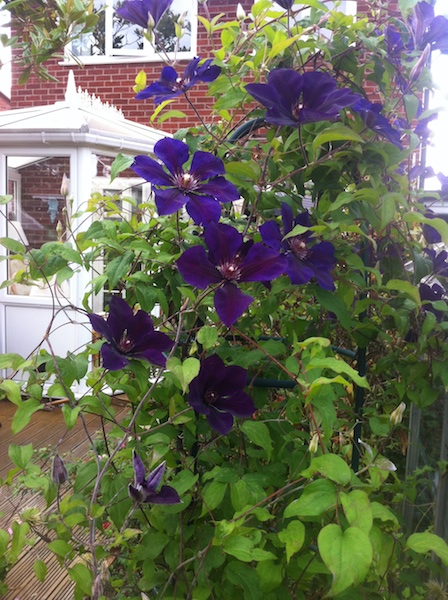 My recommendations for good varieties would be:
Large
Hagley Hybrid (pink)
The President (purple)
Nelly Moser (pink and white stripes)
Florida 'Pistachio' (white)
General Sikorski (blue)
Alpina/Nodding Heads
Francis Rivis (blue)
Willy (pink)
Princess Diana (pink)
Small
Madame Julia Correvon
Any of the alpinas or macropetalas
Low maintenance for good coverage
One of the Montana Rubens group - e.g. 'Tetrarose' (pink)
Take a look at even more varieties.

And here are my recommendations for 10 clematis varieties for all-season colour.
Planting Combinations
Consider what it is you are planting together. Here are some ideas for other climbing plants and roses.
Within these categories, there are lots of examples, with detailed information on height and spread, positioning, planting, care and pruning.
Truly stunning effects can be achieved by using groupings of various colours, forms and species.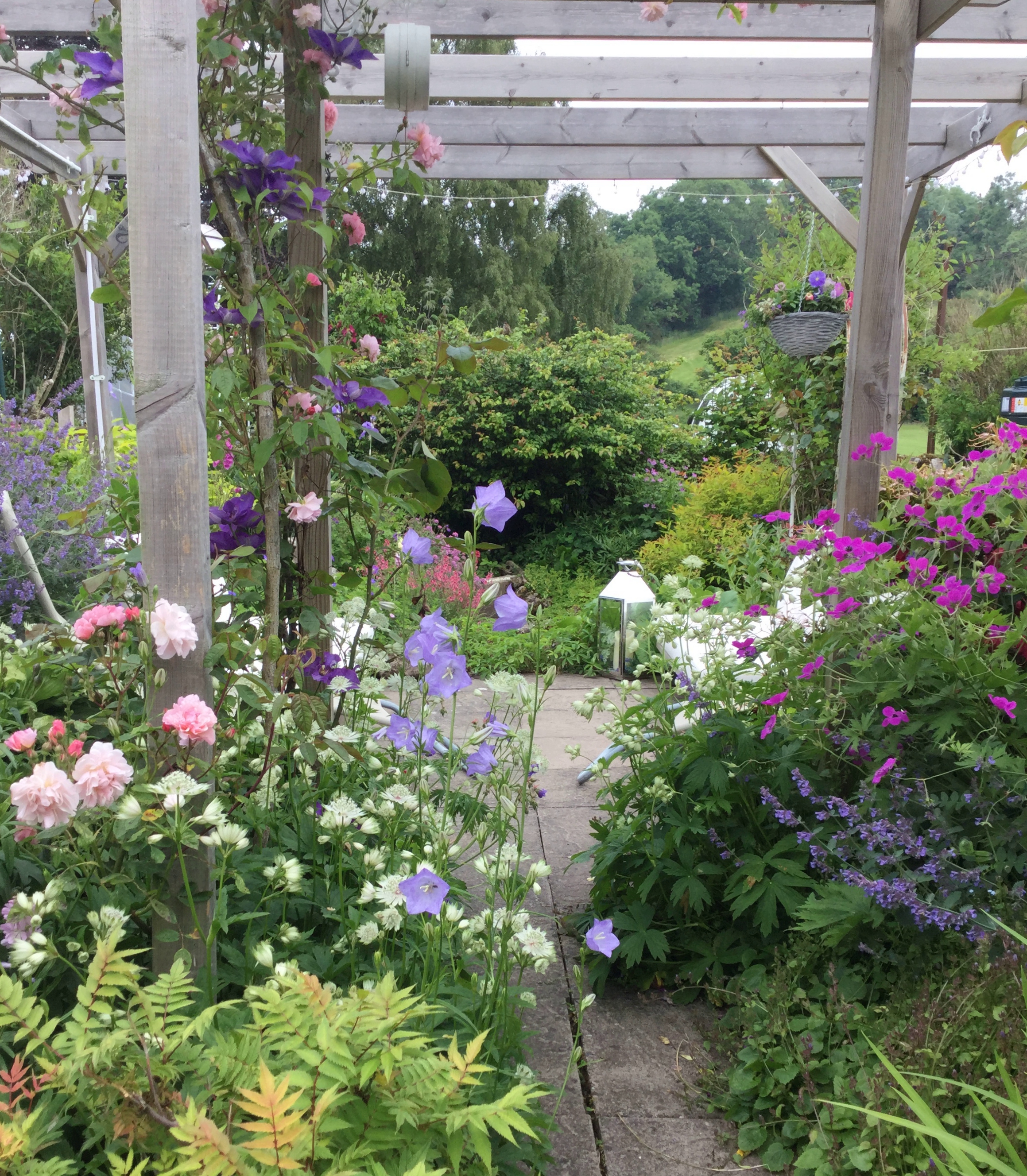 Here, on the left, is a beautiful pale pink rambler rose looking stunning against the deep purple flowers of 'The President'.  The other planting around this entrance pergola - which leads through to a larger seating area surrounded by raised beds - is planted to bring all the cottage garden pinks, purples, cream and greens together in perfect harmony.
And here it is in its full glory. Definitely one of my favourites!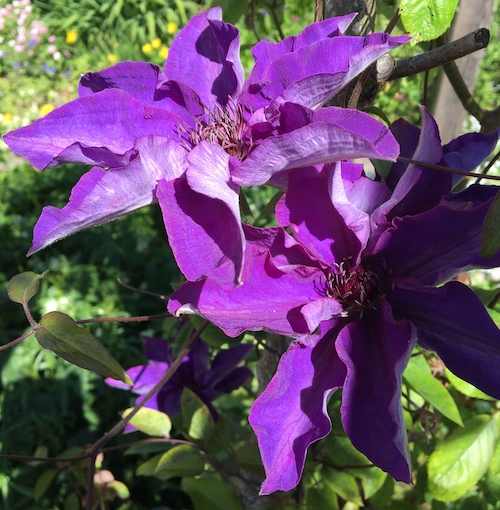 Remember to choose climbing plants that flower at the same time in order to get this particular effect.

Pruning
Pruning - oh no, not that again, I hear you say. And for these plants you will see Groups 1,2 and 3.
Don't panic! - it's not that difficult.
Clematis fall into three groups:
Group 1
The early flowering type, such as the montanas (those are the ones you see growing up house walls that have small pink flowers and a vigourous habit), the alpinas (very pretty with small, nodding heads) and the macropetalas.
Ha! - they hardly need pruning at all. Immediately after flowering, just cut out shoots from the base to thin out if necessary but otherwise leave alone. If they get terribly overgrown or your house wall needs painting! just cut them back to about 1' and they should sprout again.
Group 2
These are the large flowering types that flower in early summer on the previous years growth, then in late summer on new growth. In late winter/early spring cut out weak or damaged shoots and thin out plant by cutting some stems to a new pair of shoots. This group needs minimal pruning and can be cut back hard every 3 to 4 years.
Group 3
If in doubt cut back to strong leaf buds at 12" in early spring before new growth begins. Easy!
If you want to be a little more particular - this group flower late in summer on growth made in that season and because of this some (viticellas and texensis) can be cut back to about 12" in late winter/early spring. Cut out any damaged wood. Others can just be left to run free (small drooping head types), and others in this group - generally the larger flowering varieties can be treated like the group 2 clematis, to extend the flowering season; or can be just cut back to 12".
How easy is that?! Be confident. It is unlikely that you will kill your plant.
Remember to plant your clematis lower than soil level, and then, if anything untoward should happen, new shoots will sprout from under the ground.
This is especially so if your prize specimen gets 'clematis wilt', a disease that does just that - wilts your clematis! Cut off all stems, burn, disinfect tools and hope that your plant revives from underneath. It should. Read more about this and other pests and diseases. So keep your plant tags, note the group number and prune accordingly, because they will need pruning at some stage. When you have done it once it is more than likely that you will remember for next time.
If you are still not sure, there is one book that is worth its weight in gold when it comes to pruning and training. It is one of my gardening bibles, written by the Royal Horticultural Society. It's a real 'must have' for both the beginner and more experienced gardener, with exceptionally clear diagrams, easy instructions and excellent pictures. You can't go far wrong with this book to help! Follow the link to find the book:
Also you can read an article from the RHS on pruning to give the best display of flowers: Pruning
Be Creative
Choose plants inventively. Stamp your individuality on your garden, with eye-catching colours and combinations!