Garden Furniture Products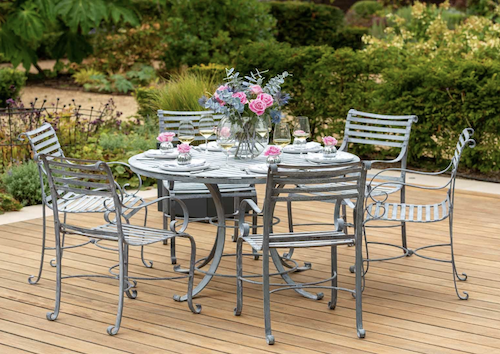 Garden furniture products have taken on a new lease of life since the garden became more of a living space, rather than the traditional flower beds with a lawn.
Now there are all manner of styles and materials. It's so refreshing to be able to choose from such a wide range of products for different purposes and also to create individuality in our gardens. The choice is truly amazing. Isn't this metal dining set just beautiful!
So where do you start? Such an extensive choice can be daunting as well as exciting.
Which To Choose
Firstly, be clear on the purpose of your garden furniture.
Will you be dining outdoors, sunbathing, entertaining, or all of these?
Will you need more than one piece, or set, of furniture for different purposes at different times?
Who is going to be using the furniture - adults, children, elderly?
This will determine the range of products that are suitable.

Garden Furniture Styles
This is an important one for those who wish to create a look. The main choice really is either modern/contemporary or traditional. Most materials have styles that can be fitted into designs for either.
Softwood and Hardwood Furniture
Wooden garden furniture products are now, more often than not, sold in hardwood. This is because it is much more hardwearing than softwood, which will have to be replaced after a few years, especially if it is left out in the elements all year round. Even so, hardwood furniture will fade as time goes on to a natural grey wood colour. There are all manner of stains and preservatives to prolong the life of your furniture, but it will need treating each year to keep it in good condition.

Wooden furniture comes in the traditional styles - dining sets, loungers etc. but can be made in contemporary styles, with sleek, smooth lines and is often used with metal. The warmth of wood is the main feature here. Because it is a natural product, it fits easily into a garden setting.
This is a beautiful and stylish teak dining set...
...and a very modern lounger 'a deux'...mmm, cosy. Or just keep it all to yourself!
Metal
Metal garden furniture has a completely different feel. It's main advantage is that it can be moulded into very intricate designs, which give a traditional, light and airy feel, or clean lines for an ultra-modern style.

One of the best developments of recent years is powder-coated furniture, as it is maintenance free. If you can find powder-coated furniture in a style that you like, it saves a lot of time and effort!
Wrought iron furniture will need to be cleaned and sprayed every so often to maintain its good looks.
This set has a beautiful aged verdigris finish, coming in rectangular and circular designs.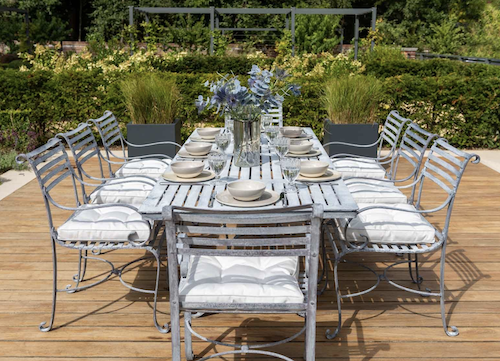 There is a new set, in the Southwold range, out this year in the same beautiful verdigris finish, but with a more relaxed feel. Here it is, hot off the press.
Lovely!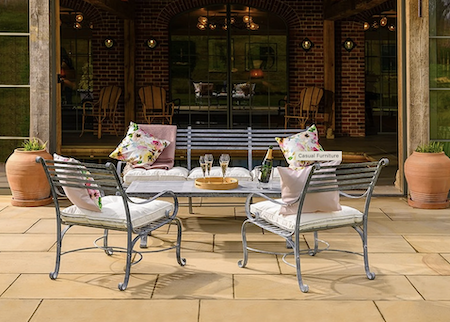 This set exudes modern elegance. Intimate and cosy, set off by the soft lines of the planting.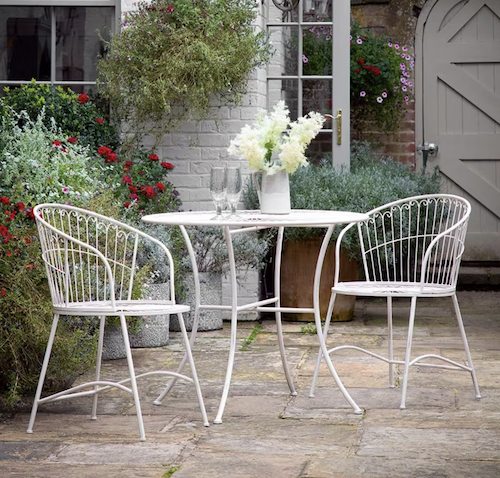 All-Weather
This includes textilene, plastic, rattan, wicker and mesh.

As gardens are becoming more of an outdoor living space, all-weather garden furniture has become much more popular, with man-made rattan and wicker, textilene, mesh and woven plastic products. The huge advantage of this type of furniture is that you can leave it outside and it won't deteriorate.
Some of the designs are fabulous, whether it is dining furniture, sun-loungers, chairs, benches or swinging seats that you prefer. I am using these much more in my designs now, as they require little or no maintenance, which is an important factor in people's lives today.
| | |
| --- | --- |
| | Give a contemporary feel to the area with a rattan set.  These look fabulous under a pergola, or on a patio. |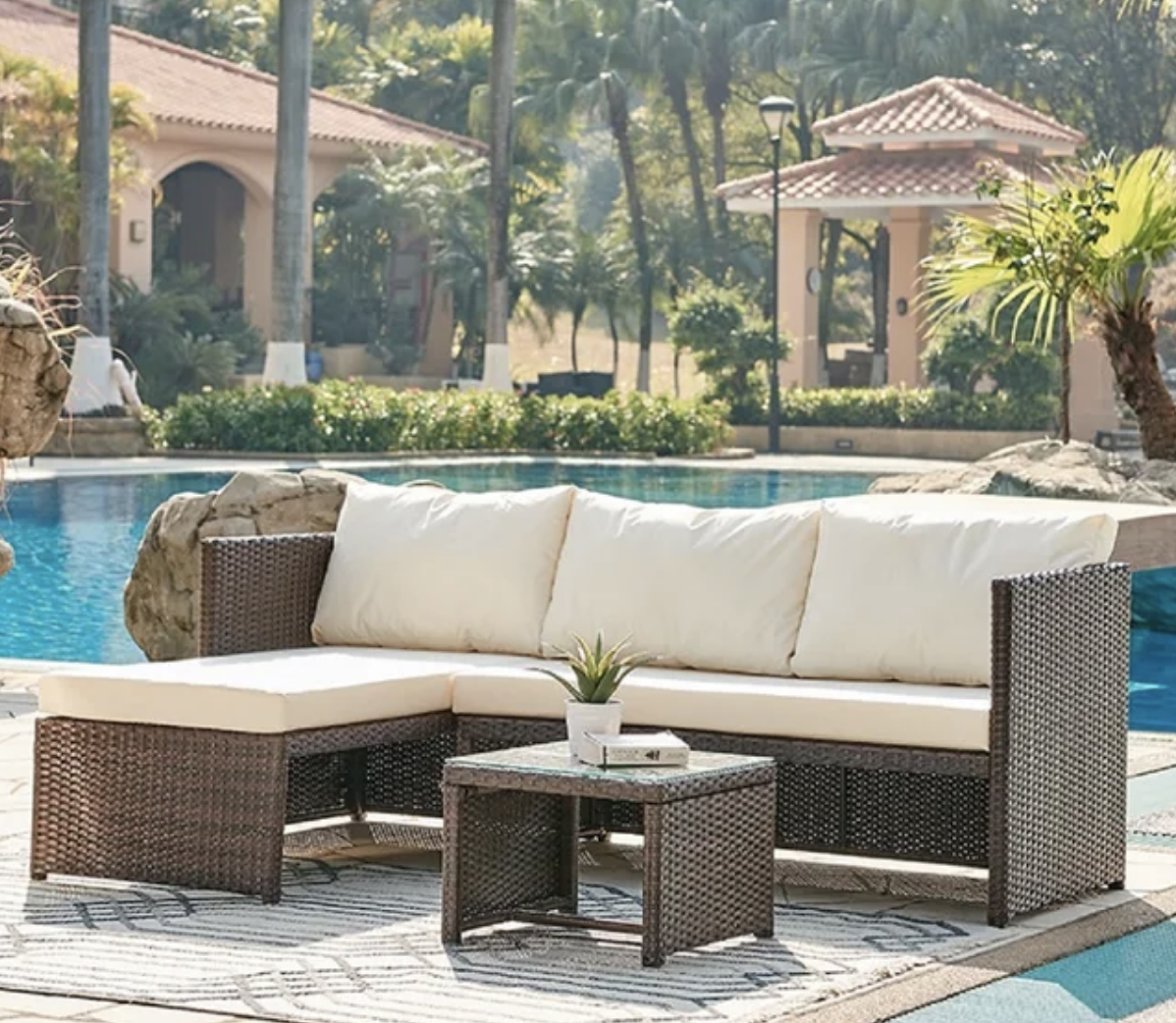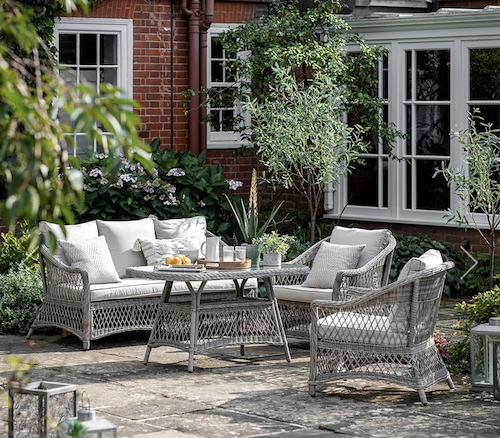 Basic all-weather, cafe-style rattan and aluminium chairs  look great in this setting surrounded by beautiful cottage garden plants, and they are extremely comfortable, too. 


Check out a huge range here.



Then there are the rattan loungers.  Great for relaxing in the sunshine.
Must admit I'm a sucker for zero gravity loungers, which can be tipped back to give that amazing sensation of floating. Such a good feeling!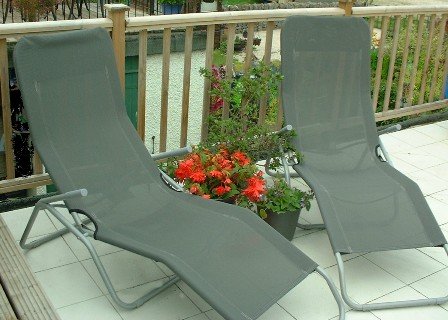 Garden Furniture Products - Ideas


Quality or Reasonably Priced?
Luckily, these don't have to be mutually exclusive! Just because some garden furniture products are cheap doesn't necessarily mean they are poor quality. Be on the lookout for bargain garden furniture products that are well built and can be adapted to your style's theme.

The sun-loungers in the picture above look sleek and modern on this roof-top garden. Needing to be left out all year round they were just what was needed. Notice the cool grey material against the neutral colour of the wood and porcelain tiles, with the flowers providing the colour highlights - and for four, at less than £100, they really were a bargain!
Below are some companies selling a range of garden furniture products, which may be of interest, mainly for ideas on the type of outdoor furniture available - styles, materials and colours - starting with value products through to the more expensive ranges.
I've included notes to highlight interesting features of each supplier.

Fantastic quality metal garden furniture.  This company are expanding their beautiful products as they become more and more popular.
They specialise in metal pergolas and rose arch walkways (in 5 different designs, and as lean-to patio pergolas), fruit cages, flower supports and furniture, of course.
Quintessentially, English country garden. Gorgeous!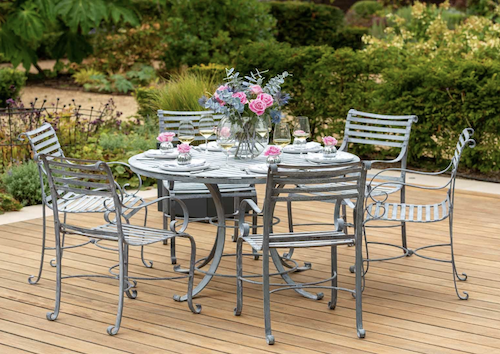 Amazing garden furniture in attractive modern designs, their website has all the different styles you could possibly imagine, with lovely weather-proof scatter cushions.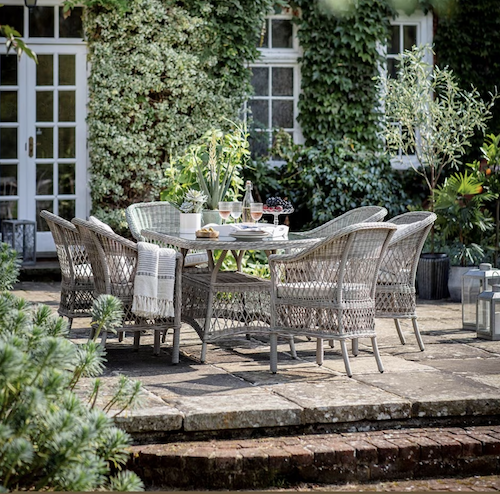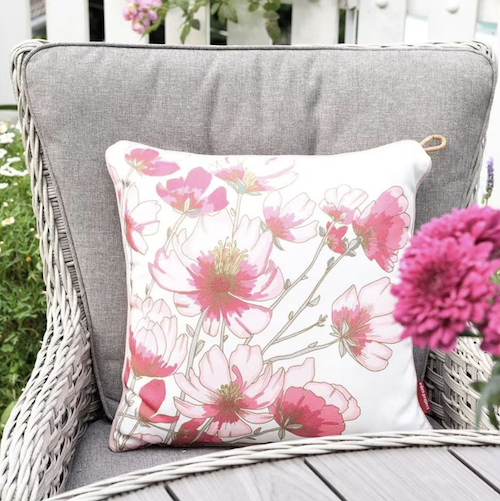 A dedicated garden products site with everything for the garden, especially geared towards garden furniture!
Very good value products in a wide range of styles, most of which include free delivery. They have a good range of all-weather rattan sets and swinging seats, intricate metal garden sets, unusual tree seats, hammocks with fixings, and much more, including garden structures, equipment and accessories.
Definitely worth a look.

Incredibly good value this year.
Wow! Stylish garden design on a budget is definitely the key here.
They have developed an interesting help section on small garden ideas:
Creating a modern style
Balcony ideas
Garden makeovers  
Creating a relaxing space
B&Q now have a really good garden furniture buying guide, which prompts interesting questions before you get into the nitty-gritty of creating your own amazing area. 
It's certainly worth taking a look.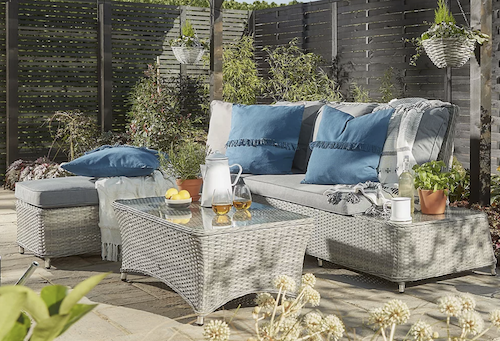 So much choice! Both inexpensive and more expensive larger sets, hanging benches, love seats and so much more.
Here are just some of their products...
Argos

Good value, affordable garden furniture products. If you are on a tight budget, they have some cheap garden furniture items, especially at end of season. The range of products is obviously better preceding and during the summer months.
Suitably placed and in interesting colours, their products can look great. It is all about choosing the right product, in suitable materials and colour.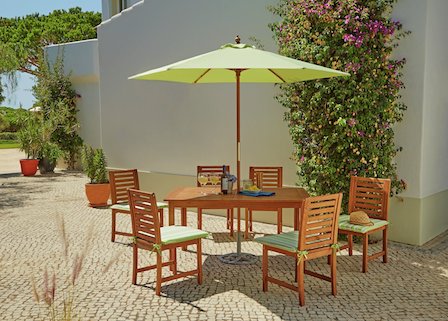 Maze Living is the official online retailer of Maze Rattan furniture in the UK. They offer the full range of Maze Rattan products, including exclusive designs. Maze Living allows you to purchase direct from the manufacturer for the first time.
All Maze furniture is made from high quality materials, is waterproof and comes with free UK delivery. Rattan Dining Sets all include a free parasol, to complete the set. The range includes rattan sofa sets, rattan dining sets, rattan sun loungers and a range of rattan accessories. 
 

Blue Diamond Garden Furniture Products
These can be found at various garden centres throughout the country and are well worth having a look at if you would like some really unique, stunning garden furniture products. All-weather rattan domes, tall seats and recliners are some of my favourites. They really have the Wow! factor. Their website doesn't show the more unusual furniture, and so a trip to one of their outlets would be recommended.
Your choice of garden furniture products can make a huge difference to the look and feel of your garden. Choose carefully and your garden will look fantastic - a comfortable and welcoming place to relax!