Modern Pergola Bracket Kit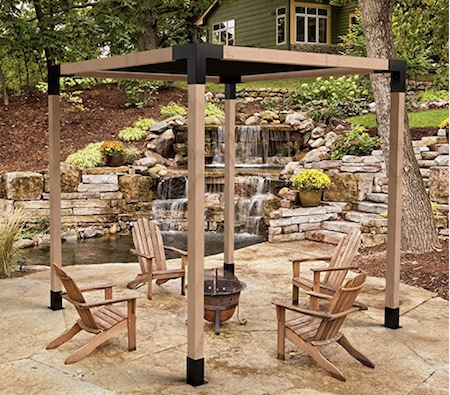 These pergola bracket kits are really catching on!
Your pergola can be built very quickly and easily, and can have many permutations for creating a truly individual outdoor space. That's what we like to hear.
Modern and modular, this pergola is definitely a garden feature with a difference.
The Pergola Bracket Kit
It uses a pergola bracket kit, for easy construction, of four corner brackets in powder coated steel that can be simply fixed together. The bolt down post anchors complete the set.
Just add your chosen 4"x4" timber and job done; you have a fantastic outdoor seating area with a very contemporary feel!

Powder coating is an amazing labour saving application, making any metal extremely low maintenance. Tough, with no rusting, this pergola bracket kit has a big advantage straight away.
Many people have built these because of the speed with which they can be installed. Getting your pergola finished in a day is easily achievable.
In a review, Jiratt said the kit was, "...easy, strong and high quality", also stating, "If you can't finish it in four hours there's something wrong!!! Just me, wife and 72 years old mother finished in under four hours."
Bonus!
Making It Your Own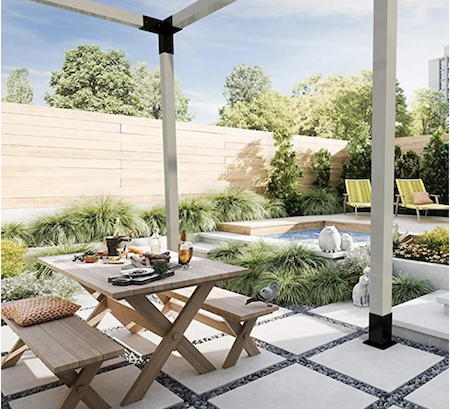 Pergolas are often so much better when they are given a unique touch. The black brackets are a feature in themselves and can be incorporated into the design, highlighting the part they play in the structure, much like the modern, industrial feel we often see in contemporary home and garden designs. 
Here, we can see the white wood and black brackets reflected in the tiles of this very neutral-coloured, cool and contemporary outdoor area. Beautiful!
Of course, the timber can be painted or treated in any colour, giving a distinctive and highly personalised character to the space, or left plain. The lighter the wood, the more the pergola bracket kit becomes a design statement.
Kim's Question
Kim from the US wanted to build a pergola using this system, but was unsure what the maximum beam span would be.
"I am trying figure out the span for if I use 4x4 post with the modular metal kits for a pergola.  The 4 posts will be 4" x 4" as well as the 4 rafters that will connect the post.  
Eventually I would like to add 2" x 2" rafters in the middle of the pergola.

I directed her to my page on pergola beam span, while suggesting a maximum of around 10ft or 3m for the square section posts used as the beams.
This is what the pergola might look like with rafters.
I have sourced these kits in the UK, USA and Australia. If they are not yet supplied to your country, I'm sure they will be available very soon.

Longer Beams
If you'd like longer beams, there is another company making modular brackets in galvanised steel, although not powder coated. At the moment, I can only find these in the UK. A more in-depth search may find something similar elsewhere.
The advantage they have is that they come in a wider range, so giving the opportunity to create different shaped pergolas.

In the picture below we can see all these used. Notice how the 1st one can be used to make an extended pergola. It is in the middle with the upright post installed.
This system does have advantages:
The pergola structure can be made any length you wish.
The size of the brackets is slightly smaller, so planed wood is an ideal fit
These two things are a real advantages!
Some have said to fit a true, un-planed 4" x 4" into the brackets they had to shave off the ends to fit the aperture of the opening, but it is perfect for planed wood. I think I would probably use treated, planed wood anyway for this pergola, especially if painting it.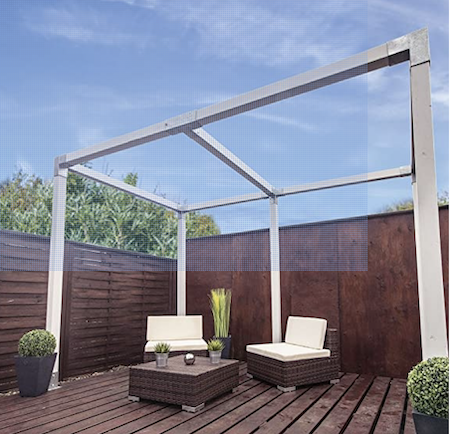 Final Thoughts
Both are really interesting, innovative systems, allowing us to build modern- style pergolas quickly. In conclusion, it really depends on what we would like in terms of quality and potential modifications.
To compare:
The black powder coated system has fantastic reviews in terms of quality, but is limited to a 10ft x 10ft size.
The galvanised ones are 1\2 the price, have advantages in ability to extend the pergola length and/or width, and the opportunity to use planed wood.
If you decide to build with the pergola bracket kits, please send in a picture! You don't have to write anything, but you can if you wish.