Did You Build a Pergola?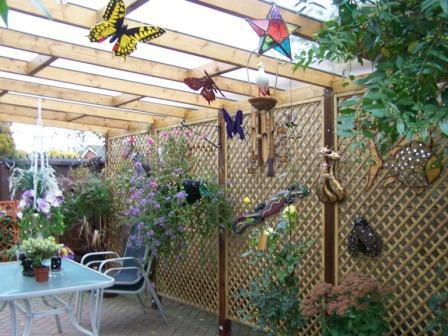 To build a pergola is quite an achievement. How did you get on? Whether simple or elaborate, self-build or pergola kit, we're dying to find out!
Was it fun, scary, rewarding?
Did you feel a great sense of achievement?
Did you have a particularly good tool that you'd like to recommend?
What was the best moment of your build, either during or after?
Has it made a difference to your garden?
Has it made a difference to your life?! Tell us how.
Have you been showing all your friends and family? (I know I did!)
Do you have some great pictures that you can share?
Writing about your pergola is very easy. Just fill in the boxes below and you're off!
Your story could be on a page of its own very shortly.
The attached lean-to pergola above was built by John.  What a fantastic job he's made of it!
Your Pergola Story


Write it here!

It's great to tell others of our achievements; the pride we feel, and how it has made a difference to our lives.

Be an inspiration to others who are thinking of building their own pergola.

Help them to have the confidence to take the bull by the horns and give it a try. It's often all that is needed to inspire someone. After all, you have been there and done it.

Tell your story. We would all love to hear it!
DIY Pergola Stories
Click on the links below to see other great stories about how other people built their own pergolas...

John's Attached Pergola Lean-to 
John's pergola is a fabulous example of a DIY pergola made from the step-by-step plans!
Rob's Hexagonal Pergola Construction Video
This is Rob's 'tongue in cheek' look at how his 2 1/2 year old son, Hiromu, masterminded and built the pergola in their garden in Japan!