Capturing the Sun!
by Ray Jackson
(Nuneaton, Warks)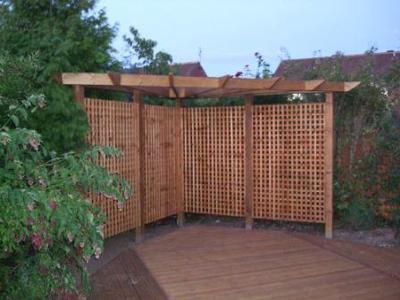 Corner Pergola With Deck
I am a bit of a DIYer and like to turn my hand to things so when the pergola idea took hold I needed to find a starting point - and hey presto - 'Pergola Plans 4 free'.

Whilst there were plans for rectangular pergolas on the site for free, I needed one to fit into a corner and Di came to the rescue.

Whilst the plans for her corner pergola were not exactly what I needed (mine needed to be 3-sided rather than 5-sided to fit around the deck) Di and I exchanged several emails and with her experience and expertise, she modified her plans to suit my needs - all I had to do was build it!

It is fair to say that the most difficult part was the metposts! They do not like stony ground so of the 5 only 1 went in as expected - so be ready to take them out, cut some of the spike off and resort to plan B - concreting them in!

The rest, as long as you follow the plans is straight forward - measuring, cutting and building - you do need someone to help to hold things from time to time and the Black and Decker Workbench, reciprocating saw (second hand off eBay) and cordless drill/driver are vital in my view. I got all the wood off the internet (delivered) and sold the 'scrap' on eBay at the end.

What more can I say - just follow the instructions and use Di's experience if you get stuck - she returns your emails within 24 hours.