A Sensational Pergola Design on a Slope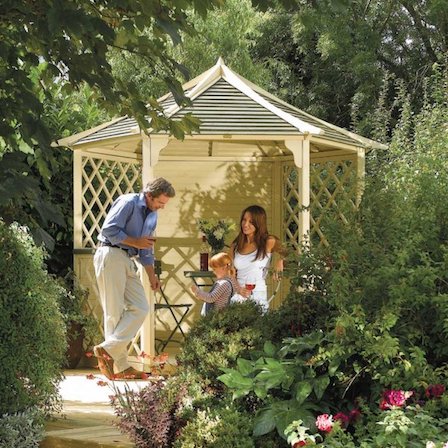 Whether you're thinking of using a pergola design made from the plans, a gazebo or summerhouse kit, one of the easiest ways to achieve lots of interest in the garden is by creating different heights and levels, especially when there is a journey towards an interesting focal point. Nothing can do this quite like a slope.
However, slopes can seem a little more tricky than working with flat ground. They require a bit more planning initially, but the end results are definitely worth it!
See different levels as a real opportunity to create something truly amazing.
With a little planning, a fantastic garden design can be achieved. Here are some ideas...

Gazebo Kits
I was looking at pergolas and gazebos recently (seeing if there were some great bargains to pass on to my readers), and came across this lovely gazebo kit, and it struck me that I've often used a similar design in clients' gardens, because it is so effective.
Here is the gazebo sitting at the top of gently rising decking steps. The design uses garden borders and additional planters to achieve an attractive, colourful, curved walkway leading to the gazebo, which acts as a wonderful focal point, filling what would probably be a rather bare corner with a truly beautiful garden feature.
This gazebo can be supplied in kit form, making this garden design very easy to achieve.

Even if the ground is flat, it would be easy to achieve a similar look with a curving path, leading the eye to this wonderfully secluded shelter.

Careful planting will enhance the effect.
Gazebo kits come in lots of different styles, with or without trellis, decking and balustrades.

A Pergola Design with Steps
Often, when designing gardens, I need to work with slopes. They present a challenge, certainly, but provide exciting options that would otherwise be absent.
Notice again how the potted plants enhance the effect, leading the eye up to the beautiful corner pergola.
This pergola design was a bespoke construction to fit this particular space. If you think you'd like to build your own stunning corner pergola or use a wonderful manufactured pergola kit, you can find ideas here...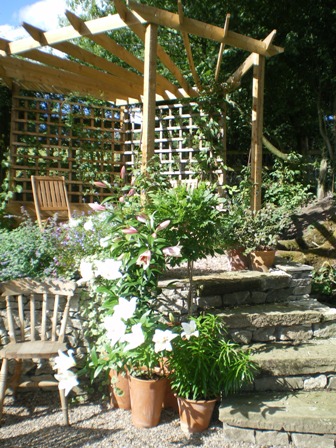 To create this effect, a slope in front of the wall had to be dug out until the ground was flattened, and then the area in-filled behind the retaining wall with the soil that had just been dug out. This method can be used for any terracing project in the garden. The process is always basically the same, whatever the size of the project.
It shouldn't be necessary to bring in a lot of topsoil, as most of the in-fill will come from the lower level: perhaps if you're wanting to plant a raised bed or garden border, you would bring in a layer of good topsoil.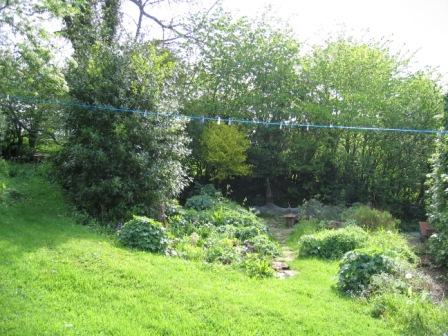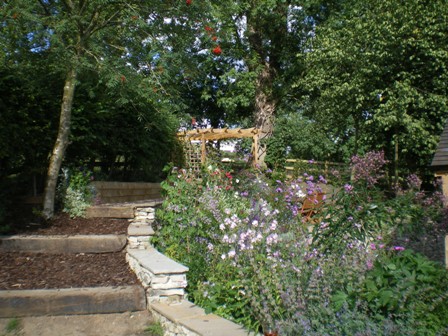 The pictures above show the slope before work began, and then the same view taking in, firstly, the lower terraced area on the right, and secondly the access path around the top side of the slope, where sleepers were used for the terraced steps.
This garden has three levels, with the pergola sitting majestically at the top of the garden overlooking a fantastic view, which, of course, can be clearly seen from this height. This pergola design fits the corner perfectly.
The natural limestone steps and woodland-style sleepers add lots of textural and height interest.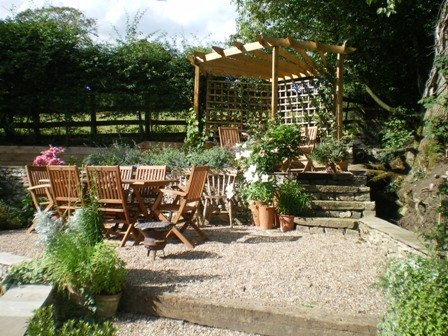 Summerhouse Designs
This was another interesting project. The original space was filled with lots of unattractive concrete that had been used as bases for sheds.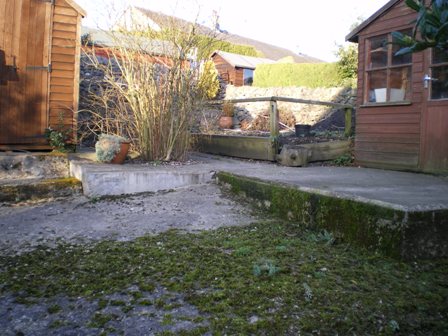 The picture below shows the area just after completion. The summerhouse kit provides a sheltered feature for reading, relaxing and entertaining.
And what a beautiful space it is!
The existing concrete was used as the basis for the remodelling of the patio areas, and more infill was used from the lawned area, as this needed to be cleared of rubble and then refilled with sub base and topsoil before the turf was laid.
The drystone walls retain the firm base under the patio.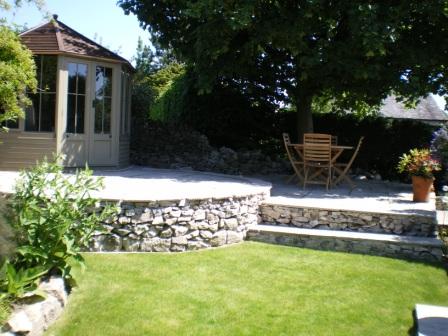 Building Retaining Walls
Terracing can be achieved with several different materials. As we've seen here, random, natural stone can be used, but more often than not manufactured walling and coping is used for it's ease of construction, durability and availability.
Sleepers are also used to give a woodland feel or softer effect, and also because they cost considerably less!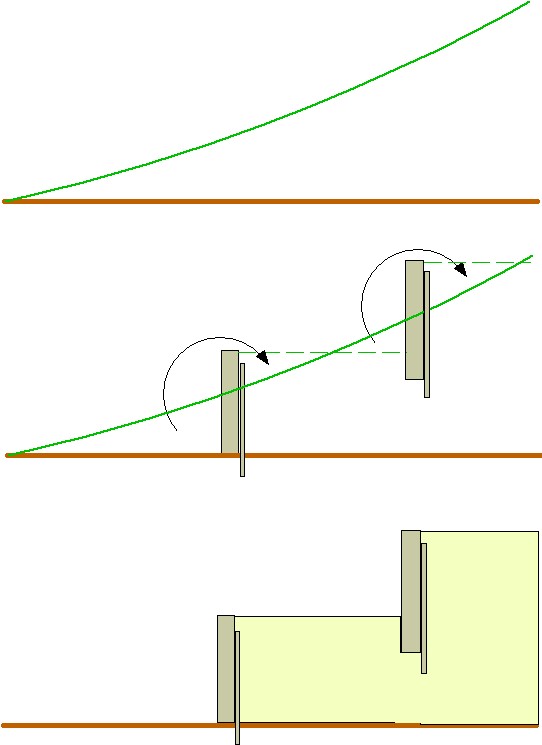 This simple diagram shows how we can use the soil from the lower level to infill the next level.
Sleepers can be sunk into the soil and braced at the rear (this is the method shown in the diagram), while both natural and manufactured stone must be built on a solid foundation which is usually at least twice the width of the wall. The surface material will cover this foundation, whether it's gravel, paving, decking, bark, soil or turf. A space deep enough has to be left for this.
Any material can be used for the risers as long as it's secure!
Terracing can be used for steps, patios or plant borders and can be very shallow to about 1200mm high. It's a highly effective garden design feature that really adds interest by making the most of different levels.
The possibilities of retaining walls are endless. If you have a slope in your garden that you think may benefit from a makeover, building a pergola design from the plans, or buying a pergola, gazebo or summerhouse kit, might be a ideal solution!
And it's definitely achievable for a DIY enthusiast, given a little thought to preparation and planning.
What a fantastic feature to have in a garden!