Triangular Pergola
Christopher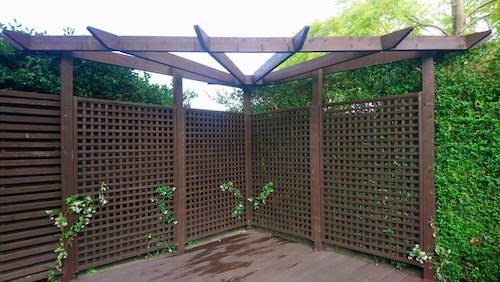 What a wonderful triangular pergola Christopher built to make an attractive seating area in his garden.
We discussed several modification to the corner pergola plans after Christopher had seen a pergola picture just like the one he wanted, here on this website.
Hi there,
Have been searching high and low for a corner pergola and it looks like the adaption that the gentleman, Ray, has done is exactly what I need.
Would you have the plans available for this 3 sided corner pergola?
Best regards,

Christopher

This is the triangular pergola Christopher had seen, and it's amazing how very similar they are! Christopher has constructed the pergola rafters in the same way as Ray and the trellis panels are pretty similar, too.
Many readers enjoy making the triangular pergola, as it sits very well in areas where side panels are not possible, like Ray needed around his decking.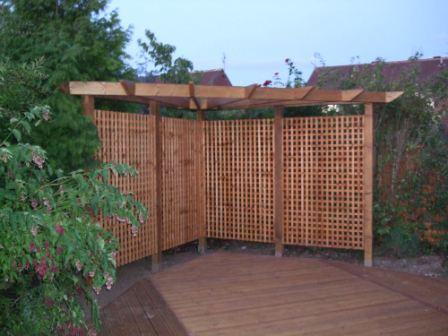 Of course, it's possible to stain and preserve any pergola in the colour you would like. The triangular pergola Christopher built is painted in a dark stain, with Ray's in a lighter reddish one. The trellis panels can be stained in a different colour, too.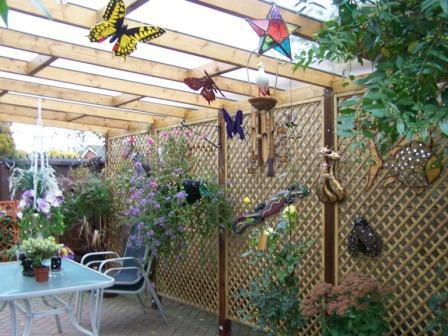 Here, we can see a lean-to pergola with dark posts and lighter stained trellis and rafters. It provides an interesting contrast.
Hi Christopher,
All the adaptations for the triangular pergola are shown on my webpage:
https://www.pergolaplans4free.co.uk/triangular-pergola.html

These are used in conjunction with the corner pergola plans, which you can find here:
https://www.pergolaplans4free.co.uk/cornerpergolaplans.html
I've shown the steps on the webpage to make it triangular, so that everyone has access to the modifications, having never drawn up separate plans.

If you need further help, please reply to this email.  If not, it would be good to see it when it's finished!
Kind regards, Di
Di,
Just to let you know I've finally finished my corner pergola - see pictures attached (just noticed almost a year to the day I purchased the plans!).
Really satisfying process, which I couldn't have done it without the plans - some great jewels of tips in there.

I adapted the plans and took out the two front posts. It helped laying out and fitting/notching/sawing on the floor first, rather than up high - I had a bit of give in the posts so perhaps without that, this method may not have worked.

My main hiccups were:

1) Tree root right in post 5's way - ended up buying a holesaw drill bit and powering through so the metpost could get in - still twisted a bit unfortunately, but not a deal breaker
2) The main 4m roof span was (in the end) noticeably twisted, so my notches in the rafters were a little generous! On the plus side, they slotted in easily though!
Overall though, great fun, satisfying and rewarding. Thanks again!

Christopher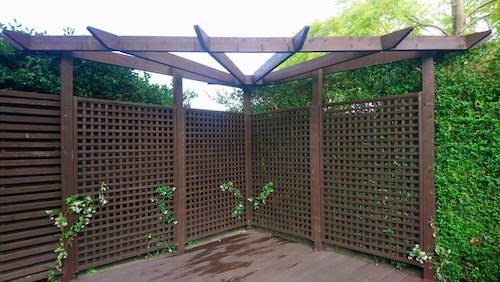 Hi Christopher,
Your pergola is an absolute masterpiece! What a triumph!
There are always variations in wood and ground work, but you have managed brilliantly. Sometimes wood can be slightly bowed or twisted. It's a good idea to try to inspect the wood yourself before delivery if possible and then to lay it flat on a dry, level floor.
If rafters are fitted this way there is no problem with the notches being a little loose; they can always be screwed into place. Your rafters, and their tail ends, look really well-constructed.  The whole structure has made a really beautiful addition to your garden.
Navigating tree stumps and other obstacles can be a challenge, but also can lead to interesting and unique features. I used this beautiful tree stump as an integrated feature of the corner pergola . It wraps seamlessly around the wall, incorporating the tree into the design. Natural objects like this one make the pergola look as if it has been there forever!
Your picture will be on my website for many years, so other people can take inspiration from you, just like you did from Ray's triangular pergola. That's what it's all about: sharing ideas and experience!
I'm very pleased you were able to use the plans to such good effect.

Very well done.
Di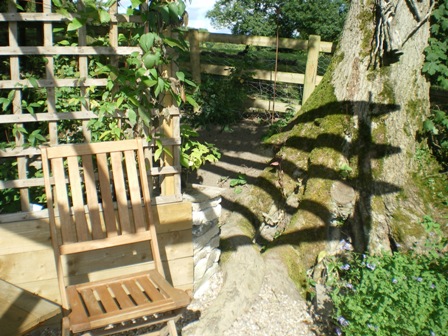 Build Your Own
These pergolas are so great to build and rewarding for me as well as for you!
It's exciting to see what fabulous structures people have made. It's always fantastic to receive photos .
Reading through the detailed pergola plans gives a good idea of what's involved, and by doing this the build itself becomes reasonably straightforward.
These plans are, of course, written for beginners.
Triangular Pergola Modifications
For those of you who would like to build a triangular pergola like Christopher's or Ray's and don't already have the plans, here is the link to the Corner Pergola Plans. 
The modifications to convert to a triangular pergola are freely available, and I give detailed pointers listed on the webpage here: 
https://www.pergolaplans4free.co.uk/triangular-pergola.html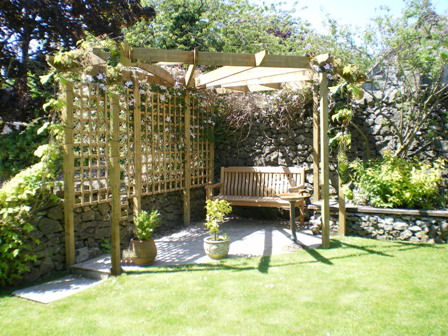 Good luck with it all, and here's to many happy days in the garden!