Pergola Hammock
A pergola hammock is such a relaxing addition in your garden. Everyone will want to lie on it in the beautiful, warm sunshine!
Owning a hammock used to be the exception rather than the rule, mainly because it was necessary to have two ideally positioned trees from which to suspend it.
I remember the first time I came across a one. We were visiting family in Ibiza, who had one slung between two orange trees in their orchard. I was drawn to it straight away.
Getting on it - and staying on it - was somewhat of a challenge at first but, oh boy, was it worth it in the end! Whiling away the hours in the cool shade of the trees, reading, with a cool drink was so relaxing. Peaceful, romantic, calming, good for the soul...
It has a romantic feel because of its association with the old-fashioned feeling of long, hot summer holidays, carefree times, the halcyon days.
Having one in the garden can evoke those feelings, giving you your own wonderful place to relax and unwind.
Different Types and Styles
In recent years, designers and manufacturers realized the need for a product with a little more versatility, in the sense that it didn't rely on having posts or trees for support. This lead to a free-standing type with frame.
These do look more modern but that's OK, as long as the one you choose fits in with the general style of your garden. You may want that look. The modern styles look great arranged on a patio, deck, or under a pergola. Even the traditional ones have been given a new lease of life, with wonderfully coloured and patterned fabrics. Add colour co-ordinated cushions to make your area look even more inviting.
Take a look at some hammocks to get an idea of the range of styles available. They stock fixings too.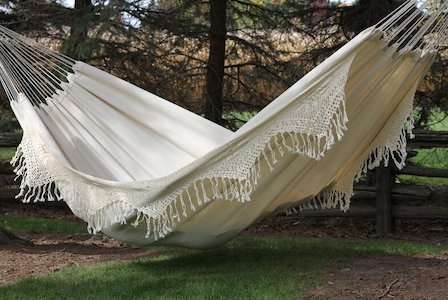 You can even get a family sized one!

There is an amazing range here, of all different sorts and styles, at excellent prices!

Fixings For Your Pergola Hammock
Do make sure that, if you choose a suspended style, the structure is strong enough to support it. You don't want everything collapsing around your ears - and you with it! If in doubt, choose a free-standing style.
With the suspended type you will need a fixing, called a Smart Rope and Fixings to attach the hammock to a tree or structure.
And if at first you don't succeed (staying on)....try again! It'll be worth it!!
Good luck, and enjoy many lazy days in your pergola hammock.