Contemporary Metal Raised Beds

These sleek looking metal raised beds have just added an extra dimension to garden design.  I love them!
This one was featured on the BBC's 'Your Garden Made Perfect'.
For many years now, the traditional material for building raised beds has been wood, but specialists in beautifully designed metal pergolas have come up with a range of sleek looking, contemporary metal raised beds to lend an understated sense of style to any garden.  Being powder coated, they require very little maintenance.  Always a bonus!
Coming in ten different sizes - the largest being 8ft - in three different heights, the possibilities for vegetable and flower displays, architectural planting and water features creation are amazing.  They have done a really good job with these planters.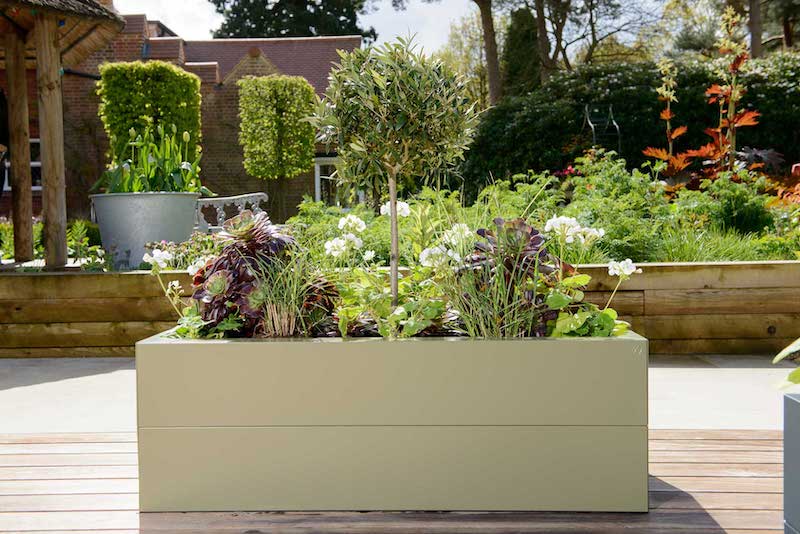 Colours and Sizes
Choose from two beautiful standard colours that blend perfectly with the garden.
Anthracite Grey
Heritage Green
However, all metal raised beds are available as a bespoke unit.  Need extra height, or a particular colour to match your garden decor?  It can be done.
Liners
The raised beds come with an optional metal raised bed liner for plants and vegetables.  Alternatively, use a pond liner!  The raised bed can then act as a water feature.
What an amazingly beautiful feature it will make either way!
Planting
Because the raised beds have a contemporary feel, architectural planting looks fabulous against the smooth, flat, neutral-coloured surface.  The beds particularly lend themselves to bold forms and contrasting foliage when used in this way.  There is huge potential for making a stunningly dramatic display.
Here we can see different sized beds used for home grown vegetables.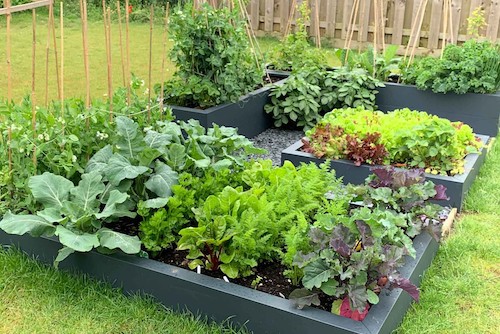 Metal Raised Bed Information
Here is a description of the beds with their specifications:
Find a video of the metal raised beds in action - so to speak - with details about the different sizes, colours and how to order here.
Use them in a vegetable patch, on a patio or next to your newly built pergola.
I'm sure these lovely raised beds will help to make your garden a very special place!