Lean-To Pergola
Tools and Materials List
Now you have the plans for your fabulous lean-to pergola, here's a list of all the tools and materials that you will need to build it from your downloaded plans.

You can find all of the tool and fixing items here.
Just click on the link and enter the item name in the search box.
Several options may be listed. Choose any that are within your budget. (If you can afford DeWalt, Makita or Hitachi tools, go for those - DeWalt being the best.)
Look in the Clearance section, where they have items listed that are not available through their other pages, as you can get some great bargains here, e.g drill bit sets and tubs of screws.
Tools:
Tape Measure
Step Ladder
Workbench
Post Level
Spirit Level
Mallet
Hammer
Hand Saw
Builders Square
Sledgehammer
Chisel
Combi Drill (for drilling wood and masonry)
Drill Bit Set - 2mm - 8mm bits (for wood and masonry)
Spanner
Optional:
Extension Reel
RCD Safety Plug
Reciprocating Saw
Jigsaw - for cutting curved rafter tails
Screwdriver Set
Marking Paint
Materials:
2 (4" by 4") square posts x 8' (10' if concreting in)
10 (6" by 1 1/2") rafters x (3m) lengths (1 for the cross braces)
2 (4" by 4") Fence Post Spike (Metpost)
Fence Spike Driving In Tool
Screws - Turbo Ultra 4.5mm x 60mm
Fischer Nylon Hammerfix 8 x 120mm (minimum) *
2 Round Head General Purpose Coach Bolts - M8 x 110mm
Flat Washers - A4 Stainless Steel M8
Clear Preservative
Optional:
For standard screw fixings to ledger board:
Fischer Original Nylon Plugs 4.5-6mm (for 8mm hole)
Screws - Turbo Ultra 6mm x 100mm (minimum)
Wood Stain/Wood Colour/Coloured Wood Preservative/Exterior
Wood Paint
*  These fixings need to be at least twice the length of the thickness of your ledger + 10mm for the washers. 
So for our example with 1 1/2" thick ledger that's 2.5cm + 1cm = 3.5cm so 100mm or more.
For a 2" ledger, that's 5cm + 1cm for the washers = 6cm so you will need at least a 120mm length fixing
See how to use the Hammerfix fixings, for attaching the ledger board, in this short video:
https://www.youtube.com/watch?v=u_SWGDAVWMs

If you don't already have these step-by-step plans, you can read about them here.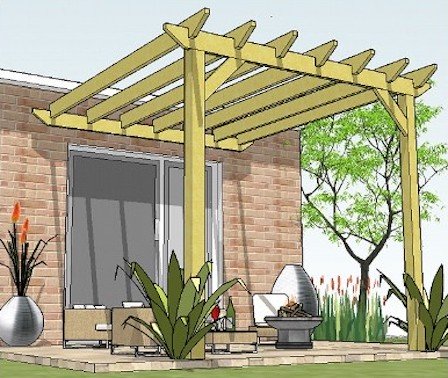 Have all the things you need? Let's get going then.
lean-to pergola materials | lean-to pergola plans | adapting the plans
home | all pergola plans | pergola kit ideas | climbing plants