Lathyrus - The Everlasting Sweet Pea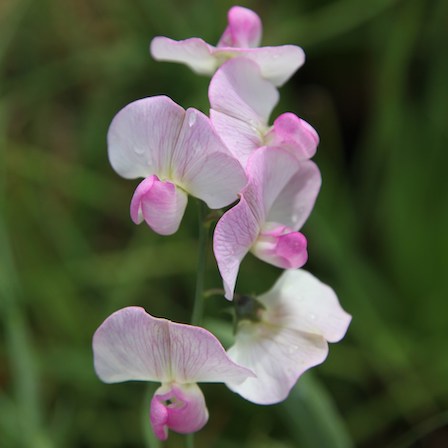 What is a lathyrus plant? We all know and love the beautiful annual sweet pea for its gorgeously fragrant, delicate flowers. It is the epitome of the romantic cottage garden.
But did you know that there is an everlasting, or perennial, variety?

The Lathyrus Family
In fact, all the sweet peas are from the lathyrus family, but this name is most widely used for the everlasting variety.

It has the same delicate form as the annual variety and, because it is a perennial, the stems just need cutting down in the spring, and it will appear next year!
The colour range is limited compared to the annual sweet pea, but it can be combined effectively with other climbers to enhance both.
It is a wonderful plant to grow up pergola posts or trellis, and against walls.
Here are the three main varieties:
The first is the pale pink variety 'Rosa Perle'. Then we have the deeper pink flowers of 'Red Pearl'. And last, but not least, is the beautiful pure white variety 'White Pearl'.
All are very delicate and beautifully formed, making lovely climbing plants and cut flowers.
Planting Combinations
The blooms look lovely with anything deep or pale pink, white, pale and deep purple, or lilac, giving a truly romantic cottage garden feel. Not only that, they are easy to grow, which is always a bonus.
See other climbers that go well with these, where you can explore different varieties, colours, forms, height, growing habit, placement and care.
I would recommend the deep purple or deep pink clematis, solanum (for a sheltered, sunny position), and deep or pale pink roses.
When you are choosing other climbing plants, make sure that they flower at the same time. The everlasting sweet pea flowers between June and September and so it gives quite a large scope in terms of planting combinations.
Here are a few ideas of climbers that go well with this lovely plant.
Given free reign, it is a vigorous climber that will grow to about six feet tall. Pinching out the growing tips will give a bushier plant.
Not only are these sweet peas fully hardy, coming back year after year, they are also very easy to propogate from the seeds produced after flowering. Grow another plant in a different part of the garden, or share the seeds with friends!