Kevin's Lean-To Pergola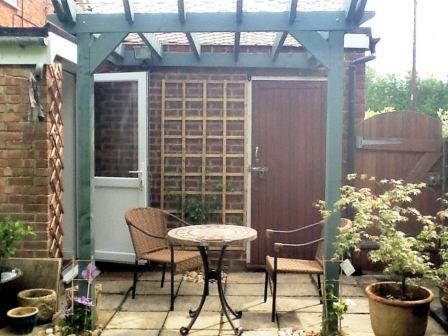 One of the most rewarding things about creating these pergola plans is seeing the finished article!  
Kevin built two pergolas in his garden, one, his fantastic lean-to pergola, and the other, an arbour with seat.  He kindly sent some photos showing what can be achieved.
Here, we are going to take a look at his lean-to pergola (sometimes called an attached pergola) which he built just outside his back door.
What a transformation!  
It has made this area into an attractive and relaxing space, where, I'm sure, he will spend much more time, now that it's been completed. 

Rafter Styles
Notice the double side rafters, which have been added as a decorative effect. We can tell this because the sides rafters don't support any other rafters or purlins.  
Sometimes double supporting rafters are used to hold heavier ones, preventing the supports from bowing, whereas decorative double rafters are just that - for decoration - and the sort of detail that makes pergolas and arbours very individual structures, with a unique style.
These look great!

Pergola Paint Colour
I like the bluey-green colour, too, as it is a perfect foil for climbing plants.
Here is a picture I took in my garden showing just how stunningly gorgeous pinks and bluey-green can be.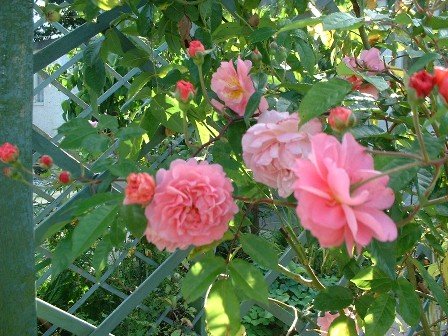 Because these colours are on the opposite side of the colour wheel, they sit perfectly together.
Kevin's use of trellis on the wall adds extra room for additional planting, too.
He has also added an acer in a pot, which softens the straight lines of the posts, and gives movement and a lovely colour contrast from the leaf foliage.
Let's see what the climbers look like in the next couple of years.  

Watch this space!


The Lean-To Pergola Plans
Here, we can see Kevin's lean-to pergola against the original plan.  Not too different at all. Kevin's pergola fits snugly into his particular space (which is as it should be), he has chosen a paint colour to enhance the structure, and included double side rafters as a design feature.
This is where the plans come into their own.  They can be adapted in so many ways, and yet still work perfectly!
If you'd like to build a pergola like Kevin's, find out more about the lean-to pergola plans, with footprint and construction examples here...
Nice one, Kevin!  Let us know how you get on.