Jasmine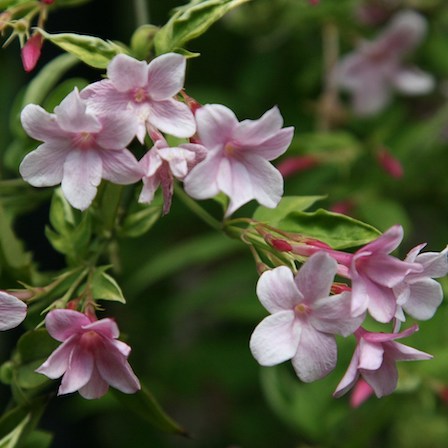 Heavenly Scent!
It's heady.  It's 'full on'! And yet the flowers of the jasmine are so delicate, adding to its appeal.
On a balmy summer evening, when dining 'al fresco', the rich scent pervades the air, conjuring feelings of exotic places. It's no wonder this beautiful climber is grown near windows, over pergolas or on our patios.

Varieties
The pure white of 'Jasminium officinale' seems to glow in the dusk and 'Jasmine x stephanense' has beautifully pink tinged flowers. This is my favourite, as the deep pink buds against the lighter pink petal undersides and the white flowers all merge to give a truly stunning effect.
Positioning is important. Being only frost hardy, these plants need a warm, sunny site that is south or west facing. I have known many people, living in colder areas, grow these plants very successfully as long as they are sheltered by a warm wall or garden structure and are south or west facing.
Once established, they require little pruning other than removing two or three old stems each year. Simple to look after and yet so effective!
There are other varieties too: cream, golden-leaved, and the yellow winter variety (which is useful in the garden because, at this time of the year, very little is flowering).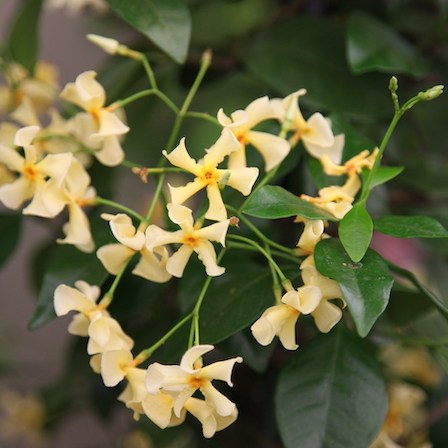 Planting Combinations
Even though these climbers can stand alone as a feature plant, there are lots of other beautiful plants that will enhance the colour of your jasmine.
Use any plant with white, pink, crimson red and purple blooms: clematis or roses are ideal climbers to really highlight the colours of the petals. Underplanting with the zingy, lime green foliage of euphorbia, hostas, heuchera and alchemilla mollis can look really good, too.
Take a look at the Plant Search to find other climbing plants to grow in combination. Take into account colour, form, scent and seasonal interest.
Be adventurous - create a sensational display!