Honeysuckle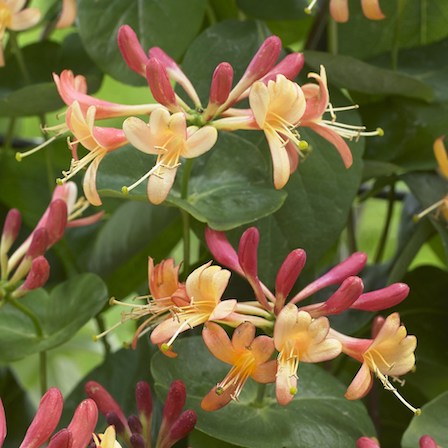 A Scented Sensation
Why do so many people have a honeysuckle in their garden? Simply because they deserve to be there!
Easy to grow, with the most fantastic fragrance, you can't really go wrong with these wonderful plants. Whether grown on their own or in combination with other plants, their form, colour and scent are worthy of our admiration.
Having waxed lyrical about their fabulous scent, there are some varieties that are, in fact, unscented, for example, the beautiful 'Dropmore Scarlet', which is grown for its spectacular red trumpet flowers and bluey-green leaves.
Being semi-evergreen, it's useful for providing at least some foliage during the winter months. This variety is well suited to being a feature plant in the more modern garden.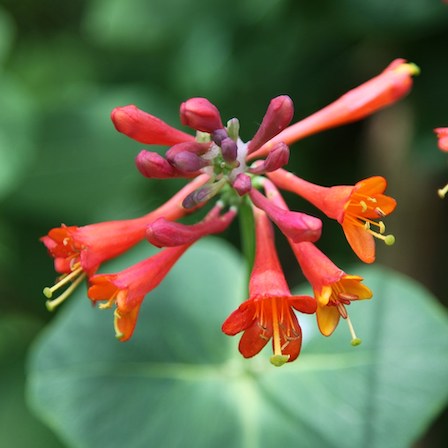 For outstanding scent, and its suitability for use on a north facing wall, I would recommend the 'Late Dutch Honeysuckle' (Lonicers periclymenun serotina). There is an early flowering variety available, too.
The 'Gold Flame' variety shown below, or one of the Japanese varieties, with their intensely fragrant flowers, are also a good choice.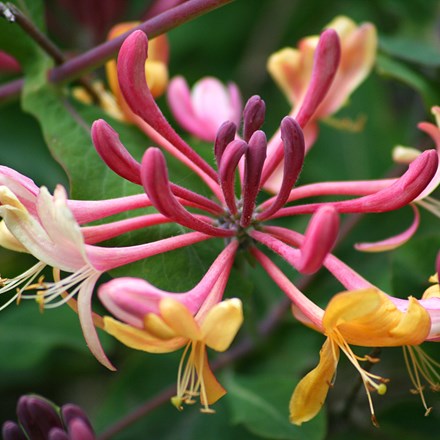 Varieties
Here are some real stunners!

Planting Combinations
To see the above mentioned and to find other climbing plants to work in combination, take a look at the plant search below. This will give you ideas on the extensive range of available climbers, and detailed information on planting and care.

One that I grow in combination with honeysuckle in my garden is the clematis Madame Julia Correvon, which picks out the red tones of the honeysuckle perfectly.
Honeysuckle can, and often is, used as a feature plant on its own. It is vigorous enough to create an individual display, easily covering a wall, arch, pergola or doorway with its wonderful blooms.

It can also be grown in close proximity to other plants that enhance its colours. Try using red, yellow, orange or white plants, such as clematis, roses and border perennials to set off the colours, or go for contrasting purple flowers for a more dramatic effect.
If you would like to make the most of your the fantastic scent, plant near to doorways, seating areas and walkways. Take into account, though, that the stems will be bare during the winter months.
Pruning
There is no need to prune if you do not wish to although, in time, the base of the plant will become an intertwining spiral of bare stems. If this happens, you can simply cut back the whole plant to about 6" and it will shoot again - its delicate appearance belies its vigorous and resiliant nature!
If you would prefer a more controlled plant, cut back flowered stems to 2-3 leaf buds in early spring.
Other than that, these plants will very much take care of themselves.
Make the most of their maintenance-free habit. They are almost impossible to kill, and will fill the warm summer evening air with their heady scent. A thumbs-up all round, I'd say!