Hexagonal Pergola
Tools and Materials List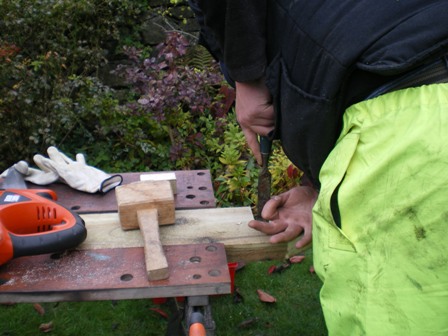 Already downloaded the hexagonal pergola plans?
Here's the next stage: gathering together the tools and materials that you will need to build this fabulous feature.
The tools and materials list is based on the example pergola which has a 3m diameter (excluding the rafter tail ends) and 3" posts.
If you have decided to change the dimensions of your pergola, make sure that the lengths of timber will be long enough to span the frame and the rafter tails.

Tick off any items that you already have or can borrow.
For the rest, there are various ways that you can source tools and materials. Find more information on what type of items to buy and where to find them.
I've tried to give as many options for sourcing tools and materials as I can. You might also use local timber merchants and stores if that is more convenient.

Sourcing Tools and Materials
Most of the tools and materials can be found here.
All you need to do is enter the name of the item in the search box and it will take you straight there. Either buy online or take a look and then buy from your local store.
For posts, rafter lengths and trellis, follow the underlined links within the list (these are for reserve and collect), or click on the images (these can be delivered), where I have included both 3" and 4" posts, and also 4" x 2" and 6" x 2" rafter lengths (they do, in fact, measure a little less, as they are cut to metric measurements).

Tools:
Tape measure
Step ladder
Work bench
Post level
Spirit level
Mallet
Hand saw
Builder's square
Chisel
Drill (corded or cordless)
Drill bit set (2mm pilot drill bit)
Spanner
String
Metal or wooden pegs
Pencil
Spade
Optional:

Extension reel
RCD safety plug
Reciprocating saw
Jigsaw (for curved rafter tails)
Screwdriver set
Line marker paint
Wheelbarrow (for mixing concrete)
Materials:
6-Spoked Design:
12-Spoked Design:

9 (4"x2") rafters x 3.6m lengths (flat rafters only)
For the pitched pergola, length of 4"-6" square post for making the kingpin 
6 concrete-in or bolt down post anchors(Metposts)

Concrete mix (sand and gravel ballast with cement) or Postcrete

Outdoor or stainless steel screws
- approximatley 4mm x 65mm

Clear preservative for cut ends
Optional:

Short length of 6" timber for the centre braces
6 or 12 Fence clips/U-brackets (if you are using an un-notched rafter design)
Approximately 3.5mm x 20mm outdoor or stainless steel screws
Wood stain/colour
Coloured wood preservative

If you haven't already downloaded the hexagonal pergola plans, you can find them here.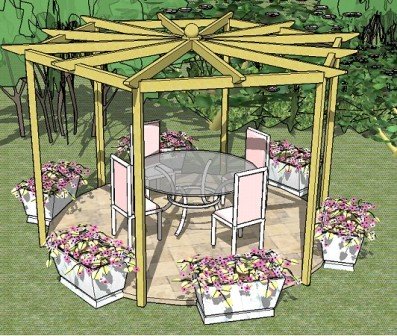 Now that you have everything you need, let's get started!