Hanging Chair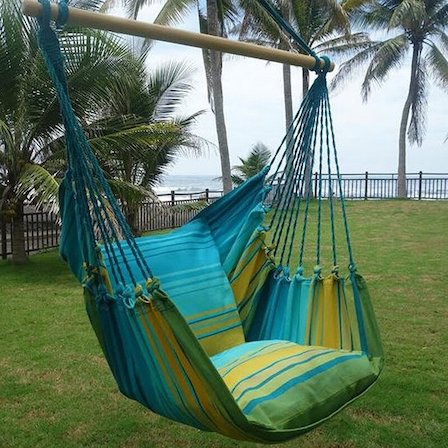 Let's Hang Out!
If you would like something a little different in your garden, a hanging chair or bench might just fit the bill: great for those lazy days in the sunshine!
Of course, it is a must that you have something to hang it from!
So, what can you hang it from? A tree branch maybe, the rafter of a pergola, a strong bracket attached to the house or under an arch. Wherever you choose to position your chair, it is important that the structure is strong enough to hold the weight.
Don't be disappointed if there isn't anything suitable, there is the option of a free-standing frame, which gives you more flexibility, as you can move it about.

Ideas For A Hanging Chair
Handing garden furniture looks great on a seating area such as a patio, deck or under a pergola. Pergola accessories can make a world of difference to the overall feel of the area and a relaxing effect that can be achieved.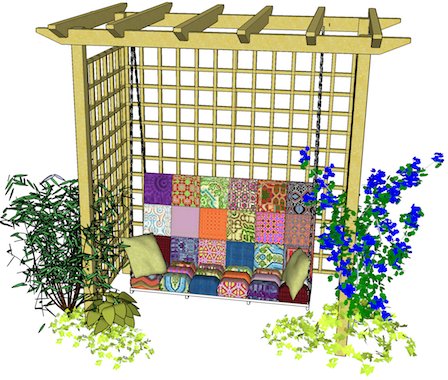 Any of the pergolas made from the plans can have swing seats added to make them a very special area.
How inviting does this look!
Here's a beautiful Asian-style pergola made by Howard.  He built the pergola with a hanging chair on two sides. What a beautiful area to spend time out!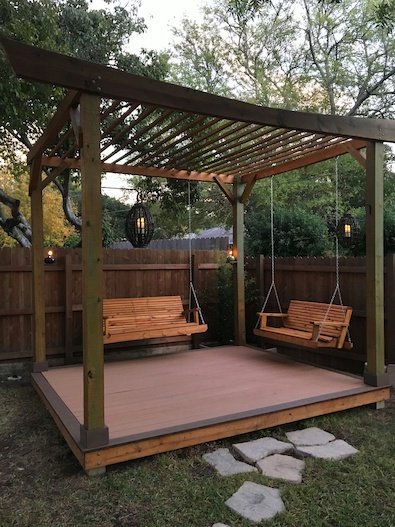 Free-Standing Hanging Chair Solutions
A free-standing hanging seat is great for creating a sleek and sophisticated look, with its curved shapes and clean lines that looks great in a very modern design.  

Alternatively, it works very well surrounded by more traditional planting.
Learn how to make this patio circle here.  You will have step-by-step instructions and pictures to create an interesting feature on which to stand your hanging seat.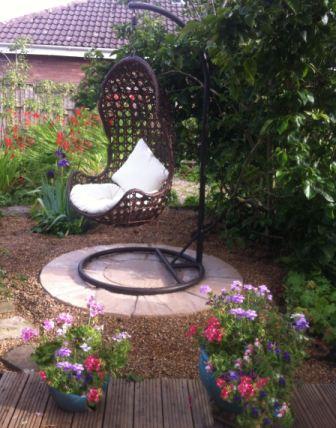 Fabric chairs give a more informal feel and can really jazz up an area.
Both styles have their place and create something different and special. The free-standing hanging chairs can be more expensive, but if that is the style you wish to create then they are well worth it!
Some are weatherproof: those that are made out of all-weather rattan and those made from weather-proof material. Do check this if you would prefer to leave your chair outside.
Co-ordinate your seat with other garden furniture and planting to create a really welcoming space. There are many fabrics to choose from so that you can do this easily.
Maybe use alongside some outdoor bean bags, a hammock and colourful cushions for a very relaxed area. Or have dining furniture in one area, with the 'chill out' area nearby.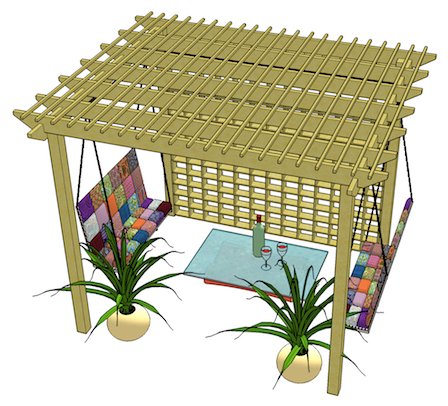 This is an idea for a seating area made with the free plans.  If you don't already have them, you'll find them here. 
It's amazing what can be done!


Wooden Hanging Bench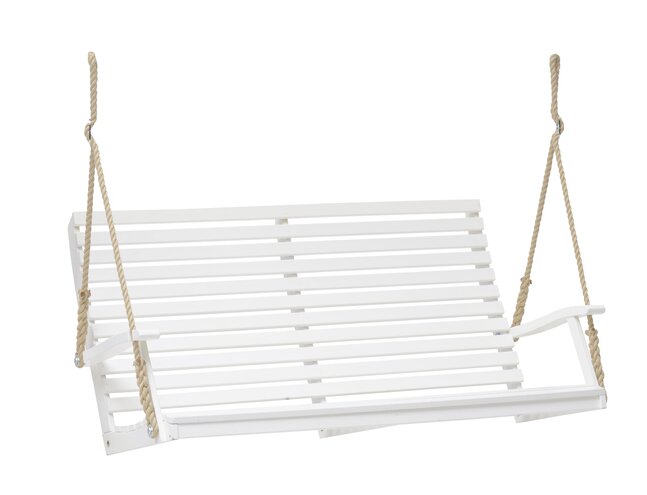 These are not always easy to get hold of, and tend to be seasonal, so if the one you want isn't available, like anything else in the 'Garden and Outdoors' departments, you may have to wait until it comes back into stock.
It's been so fantastic this year, with so many more hanging seat and benches coming onto the market.  They have, in the past, been notoriously difficult to get hold of.  So many people ask about sourcing them for DIY projects and now, at last, there are some beauties to choose from.
This wooden hanging bench is ideal for hanging from your pergola rafters. It comes as a kit with the chains and fixings.
Ready made, and ready to go.  Ideal!
Here's another one in wood with a vibrant fabric cover, ideal for use under a covered pergola or porch.

Or what about this metal hanging seat?  So romantic!
Plastic coated, too, so no rust.
Add cushions and throws...and then pretend you're in a period drama!
Other romantic hanging metal benches come in wonderfully intricate designs and styles, including single swing seats for those smaller spaces.
Now we are seeing several all-weather, eco-friendly, Polywood seats that are ideal for a maintenance-free solution.  They come in several different colours to match with your own individual scheme.
The look very similar but the slats run horizontally on some and vertically on others.


Patio Canopy Swing Seat 
This larger hanging seat is also very popular, because the whole thing is free-standing, making it very versatile and easy to install; the seat has a ready made structure to hang from, and it can be moved around, if a change is on the cards. 
They are available with or without a canopy and some are, in fact, arbour swings with a solid roof; really cosy, providing a very attractive feature in the garden.  Team up with comfy throws and cushions for a special place to relax.
Using unusual garden furniture accesories can really transform your seating area. And you can be sure that everyone will be drawn towards it! This angled swing bench is so welcoming.
Find more ideas on creating your perfect seating area here.