Garden Landscaping for Women?
That's a Man's Job - Isn't It?!
Are 'Sisters' doing it for themselves? Can women really do garden landscaping?!
If you have a story, however large or small the project, write about it here! Be an inspiration to other readers.
Have your own page on this site. Some pictures would be fantastic if you have any. 
It would be great to know what type of garden landscaping you did, and how you got on. You might have built a beautiful border, a pergola, arch or arbour (either self-built or in kit form), a pond or water feature, patio, deck, hanging baskets and planters, or even used interesting accessories to make a feature more interesting.
Show us all what you did. Readers are always looking for inspirational stories so they too can have a go at creating a wonderful garden.
My Story
When I first started building my own garden, it was really out of shear necessity...
I love plants and interesting garden features, but when we first had a garden of our own, my husband, who isn't remotely interested in anything garden related, said, "I think you should have it concreted and painted green! (He is a bit of a joker).
What he was really saying was - the garden is your province, do what you like... but it's not 'my barrow', so to speak.
Fair enough. Each to their own.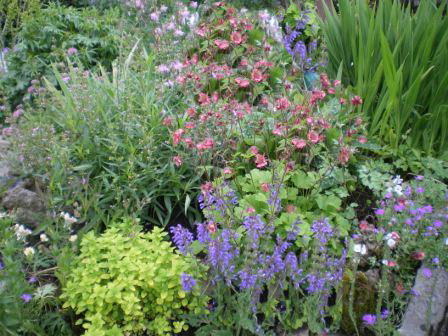 Here is my rockery with a lovely pink nodding geum in the centre. I took the picture from the sunken patio in front, and to the right is a natural waterfall.
My garden is not very big, (everything has to be in miniature, and plants really have to earn their place in the garden), but it has different levels and access points, leading you around the garden, with arches and a pergola, a waterfall, stream and pond, patios, several seating areas and even a roof garden.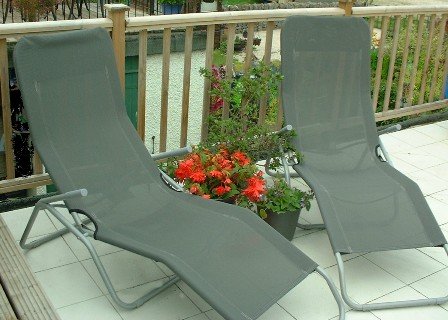 I use pots and hanging baskets on the patios, to give plenty of colour all year round.
My garden has evolved over several years, with parts added here and there, all of which I built myself.
Now, when I design and build gardens for clients, which are usually a complete garden makeover, I still like to be very 'hands on', being involved in the building and planting process all the way.
It is so satisfying to see something turned from this...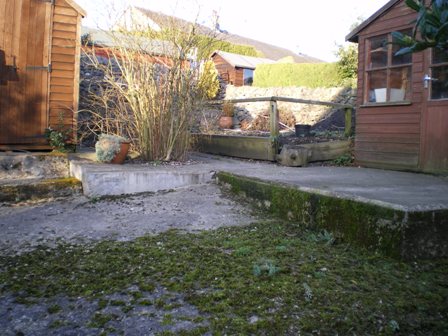 into this...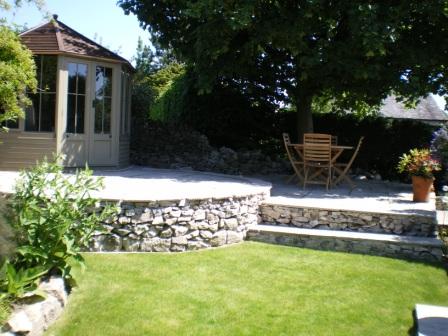 And this (which was full of rubble and weeds)...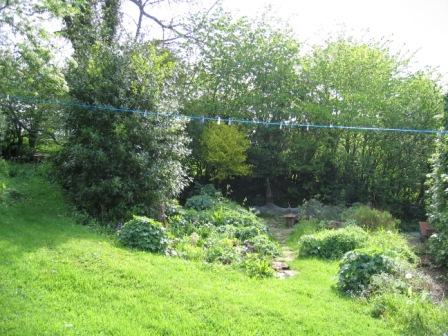 into this...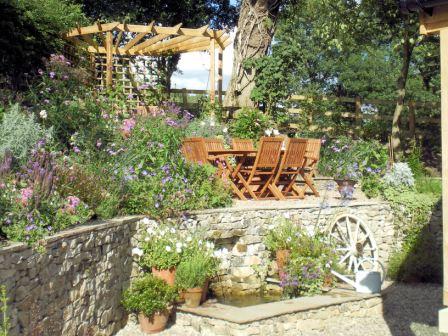 Share Your Story
It's very easy to do. Click here to get started straight away!

Could Your Garden Do with a Makeover?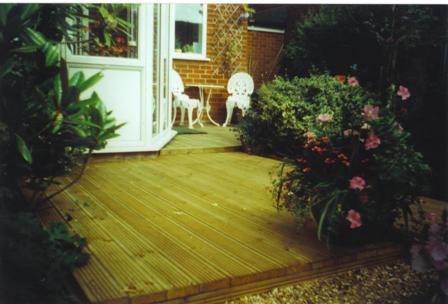 Garden landscaping doesn't have to be complicated, and can be done a bit at a time, spliting larger projects into smaller manageable ones.
Sometimes help is needed lifting heavier objects and holding things steady, but if you can come up with the design, organise required tools and materials and provide the impetus to get things going, it's amazing how willing others are to help!
Take a look at the garden makeover, pergola pictures and pergola ideas pages for more information and inspiration.
Here's to building the garden of our dreams!