Hi,



Issue #26



Two Amazing DIY Pergolas
---
Here's hoping everyone is healthy and as happy as we can be, given the situation in our world at the moment.
Thank heavens for our outdoor spaces. They have made such a difference, haven't they? Everything is sprouting fresh and new to lift our spirits.
So many are looking to start new projects to enhance their gardens, making new seating areas particularly for a comfortable and welcoming place to spend time.
There are two I'd like to share with you today.
Firstly, and because it relates to my last newsletter about building pergolas with swings, here is an Asian-style pergola built by Howard, with swing benches and a deck.
And what a treat it looks. Amazing!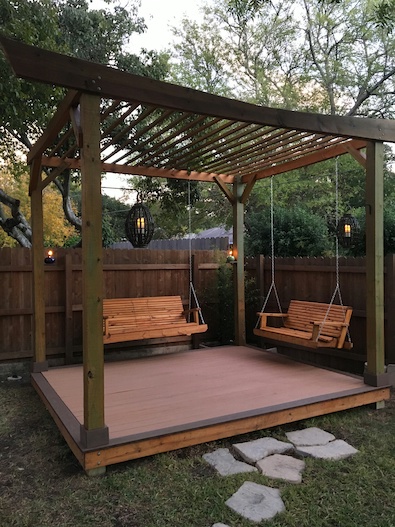 We looked at how best to build a structure strong enough to take the weight of the people on the swings by notching the posts and doubling up on the weight-bearing rafters and using corner braces to shorten the span of the support rafters.

Howard wanted to have an Asian-style pergola design, using a curved rafter on the front facing main entrance. Beautifully constructed and finished, I must say.

For a special touch, he added an inscription. Howard thought I might like his 'hidden' gem of wisdom.

If you look carefully, you can see it on the back of the front rafter.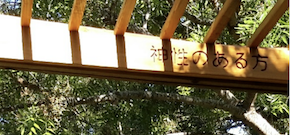 "Be one with the creators nature"
He's planning to build a solar-powered water feature next to one of the posts. Mmmm...running water and swing seats...a match made in heaven.
What an amazing achievement, Howard. Thank you for sending the pictures in!
Our next self-build is by Peter. He decided to create a corner pergola from the plans, and it is another triumph. Peter has done amazingly well with the radiating rafters and trellis to make this beautiful structure with a very welcoming feel.
The plain straight-cut rafter tails give his pergola a modern feel, and I like the way he has used different colours for the posts and trellis against the rafters to make both really stand out.
Well done, Peter. I expect you're enjoying the fruits of your labour, now, with all the incredible weather we've been enjoying.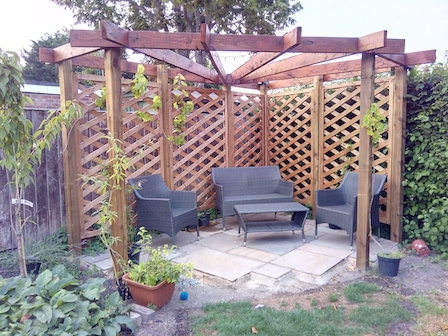 Seeing pergola and arbours –– or any garden feature, for that matter –– that readers have built, is the very best part of my job.
Here is the original pergola on which these plans were built. To see the two together shows how similar, yet individual, a pergola from the same plan can be with just a few adjustments.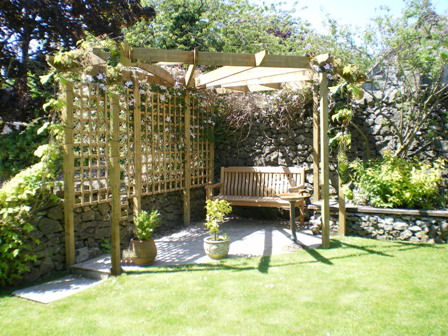 Good luck to everyone with your projects this season. Remember to send pictures when you've finished!

I hope you have many happy hours in your wonderful gardens this year.

Until next time...

All the best,



---
Coming Soon
Talking of gardening on a shoestring, I have an interesting ebook that you may be interested in with lots of ideas on ecological, money saving gardening tips. People are always asking me about frugal gardening ideas - after all, we do love making something out of nothing. We'll have a look at it next time.

Most people who get overwhelmed by their gardens are battling constantly with weeds. Let's find out how to manage them, so they are not such a never-ending problem.

If there is anything you would like help or advice with through the ezine, just drop me a line.

We have a lot of new members since last time, so introduce yourself.

Let us know how you are getting on in your garden, your successful projects - pergola, or otherwise. You can even write your own web page here on this site and tell us all about it, with before and after pictures if you have them.

And for those who are new to 'Love Gardening!' find back issues through the link below.....


Back Issues for Love Gardening


---
For details about beautiful climbing plants, take a look here...
For free pergola plans and rafter tails visit:
Simple Pergola Plans: Design 2
How to Lay a Stone Patio Circle
Additional Plans
Attached Lean-To Pergola Plans
Sloping Pitched Roof Hexagonal Pergola PlansNEW!
Seated Arbour Plans NEW!
---
If you think you may have a friend who would also like to read the 'Love Gardening!' ezine, all they need to do is fill in the sign-up form here to have it sent automatically.
Occasionally, I receive exclusive voucher codes from UK companies. I will pass these on to you, so that you can receive these discounts too! They can be found here, or from links on my blog page.
Have great fun this gardening season!


---