Hi,



Issue #24



Theresa's Garden Design Question - She Needs Help!
---
There are times when we all need a bit of help and support in the garden, even if it's simply knowing how to get rid of those pesky weeds effectively without putting in tons of back-breaking hours.
Theresa has been giving tremendous help and support to her family for quite some time now but, after moving back home, found that her garden was out of control. (Don't we all know how that feels!)
It was overwhelming for her - as it can be for so many of us who are trying to give the garden a much needed makeover.
Take this garden, for example. If ever a picture told a thousand words.....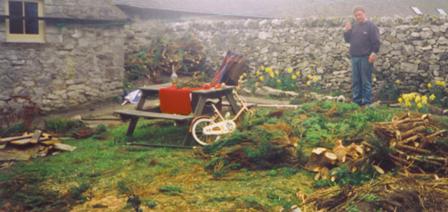 Richard was thinking, 'What do I do with this lot, then?'
It was a mystery indeed - and he wanted to watch the Open Golf on the telly. Double whammy!
The garden is now a haven of peace and tranquility, especially with the round lawn as the centrepiece and the slowly rising path around it. A swinging arbour and cottage garden planting finish the whole off beautifully.
This certainly was a garden built on a shoestring, but with the help of a few friends, we completed it in a very short time, having such good fun - with meals outside on the hot summer evenings, strategy meetings in the local pub, great food and even better company. Happy days!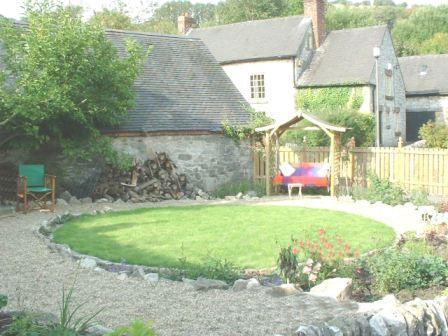 We are not always blessed with help to this degree, but garden design and makeovers can still be done very effectively with only one person. See what I suggested for Theresa to give her a bit of momentum.
This ezine is dedicated to her and all the people, in a similar situation, who are finding it difficult to make any headway.
After a little bit of support with how to approach garden design and planning, Theresa is beginning to see the wood for the trees!
This is her story from the first time she contacted me. Let's see how she's getting on with it all...

Until next time...

All the best,

---
Coming Soon
Talking of gardening on a shoestring, I have an interesting ebook that you may be interested in with lots of ideas on ecological, money saving gardening tips. People are always asking me about frugal gardening ideas - after all, we do love making something out of nothing. We'll have a look at it next time.
Most people who get overwhelmed by their gardens are battling constantly with weeds. Let's find out how to manage them, so they are not such a never-ending problem.
If there is anything you would like help or advice with through the ezine, just drop me a line.
We have a lot of new members since last time, so introduce yourself.
Let us know how you are getting on in your garden, your successful projects - pergola, or otherwise. You can even write your own web page here on this site and tell us all about it, with before and after pictures if you have them.
And for those who are new to 'Love Gardening!' find back issues through the link below.....

Back Issues for Love Gardening


---
For details about beautiful climbing plants, take a look here...
For free pergola plans and rafter tails visit:
Simple Pergola Plans: Design 2
How to Lay a Stone Patio Circle
Additional Plans
Attached Lean-To Pergola Plans
Sloping Pitched Roof Hexagonal Pergola PlansNEW!
Seated Arbour Plans NEW!
Video Tutorial - How to Lay a Patio
---
If you think you may have a friend who would also like to read the 'Love Gardening!' ezine, all they need to do is fill in the sign-up form here to have it sent automatically.
Occasionally, I receive exclusive voucher codes from UK companies. I will pass these on to you, so that you can receive these discounts too! They can be found here, or from links on my blog page.
Have great fun this gardening season!


---