Hi,



Issue #31



Now Is The Time!

Inspired Ideas For Growing A Beautiful Display of Bulbs
---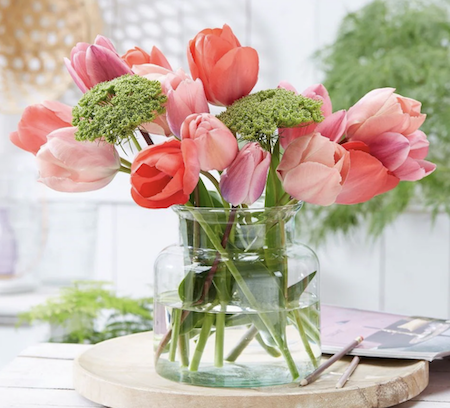 'Orange Sorbet' Collection


This seems like such a good idea - one I've been itching to share with you for a while!
Displaying plant combinations in a vase, listing the specific varieties so that we know what they are, and then selling them as a collection, seems an amazingly simple and effective way to enable us to visualise how these plants will grow together in the garden.
And that's how it all started with my own tulips...
For years now I've had a very stunning, much admired bog of brilliant red tulips in the border next to my pergola. They shine out in the springtime with their intensely luminous vibrancy, the lime-green leaves of a mock orange acting as a perfect foil standing majestically behind, setting everything off to perfection...or so very nearly.
🤔 I felt there was something slightly jarring with the rest of my garden, then realised what it was; the red tulips were just a bit too red!
So, for a while now, I've been wondering whether to add a few different, subtle variations to pick out other spring colours in my garden made up of mainly pinks, blues and lime greens. Luckily, when I was pondering this dilemma, I came across this gorgeous arrangement. How amazing it looks! And how easy!
So that clinched it. It was finally happening. No more procrastination. Last autumn saw the 'Orange Sorbet' collection go in, and what a show they were in the spring, blending with the red tulips, softening the effect, leading the eye from their particular border, complementing the softer tones of the other more delicately coloured spring plants elsewhere in the garden.
Thankfully, it worked a treat.
Whoever thought of putting the tulips in a vase to highlight their amazing beauty was definitely in tune with our needs and desires: a combination of bulbs for an incredible display, either left in the garden border, or used in a stunning vase of flowers looking good enough to eat. (It didn't escape my notice that many of the collections are aptly named after luxurious desserts.)
There are a variety of collections to choose from. Making the decision is the hardest part!
If stronger, fiery colours are more to your liking, here's one that may well just tempt you. How stunning is that?
Notice the architecturally frothy plants in the different vases enhancing the stars of the show with their complementary colours. Growing these incidental plants will bring your display to life. They can also be bought from a florist separately. Just make your choice and stick 'em in.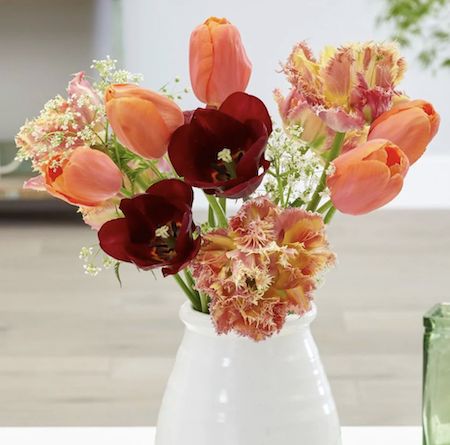 'Plum and Ginger' Collection


I realised what a good way this is to get ideas for planting, not only for tulips, but also for other collections: alliums, ranunculus, and any other combination of spring bulbs.
It's not entirely a brand new concept (I remember buying spring bulb collections several years ago showing the bulbs growing together in the ground on the front of the packet), but these vase arrangements are inspired, with more imaginative and contemporary ideas.
The links shown are UK based, but the varieties of tulips are clearly listed and are readily available elsewhere. If you really would like one of these collections, just find out the name of the individual tulips and you're away.
If you don't manage to find the exact bulb in your garden centre, or online, choose one that is near in both colour and form, and your display will still look just as beautiful.
To cap it all, feast your eyes on this froth of loveliness!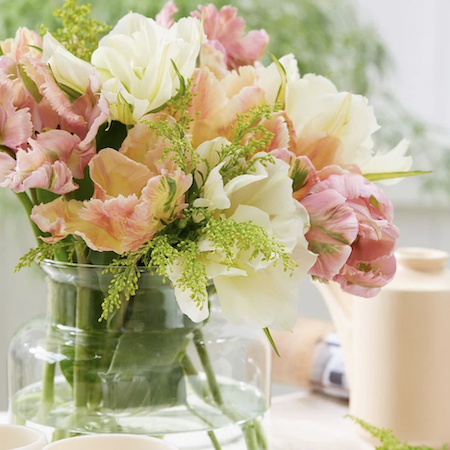 The 'Vintage' Collection


Buy your bulbs now to plant in November to December - any earlier and they may begin to shoot, leading to frost damage.
Planting at about three times the depth of the bulb is a general rule of thumb, with the shoot pointing upwards to conserve the bulb's energy.
Look how you will be rewarded. Nature is indeed a wonderful thing!

Until next time...

All the best,



---
Coming Soon
Ponds can be magical and yet a great source of frustration for some homeowners if plagued with cloudy water and strings of unattractive algae choking the water, plants and pumps.

Find out how to make your pond water crystal clear and free of blanket weed with this very simple method. I have only just discovered it and have never seen it suggested anywhere before. This will be a first...and it's free.

Talking of free: need to do gardening on a shoestring? I have an interesting ebook that you may be interested in with lots of ideas on ecological, money saving gardening tips. People are always asking me about frugal gardening ideas - after all, we do love making something out of nothing. We'll have a look at it next time.

Most people who get overwhelmed by their gardens are battling constantly with weeds. Let's find out how to manage them, so they are not such a never-ending problem.

If there is anything you would like help or advice with through the ezine, just drop me a line.

We have a lot of new members since last time, so introduce yourself.

Let us know how you are getting on in your garden, your successful projects - pergola, or otherwise. You can even write your own web page here on this site and tell us all about it, with before and after pictures if you have them.

And for those who are new to 'Love Gardening!' find back issues through the link below.....


Back Issues for Love Gardening


---
Occasionally, I receive exclusive voucher codes from UK companies. I will pass these on to you, so that you can receive these discounts too!

They can be found at my page listing Fantastic Pergola Offers, or from links on my Blog Page.

Visit pergolaplans4free.co.uk

For details about beautiful climbing plants, take a look here...

For free pergola plans and rafter tails visit:

Simple Pergola Plans: Design 2

How to Lay a Stone Patio Circle

Additional Plans

Attached Lean-To Pergola Plans

Sloping Pitched Roof Hexagonal Pergola PlansNEW!

Seated Arbour Plans NEW!

Video Tutorial - How to Lay a Patio




If you think you may have a friend who would also like to read the 'Love Gardening!' ezine, all they need to do is fill in the sign-up form here to have it sent automatically.

Have great fun this gardening season!


---