Hi,



Issue #22



Pergola Pictures - Here Are Some You Made Earlier!
---
Great job from our pergola builders!
Here is Kevin's patio pergola: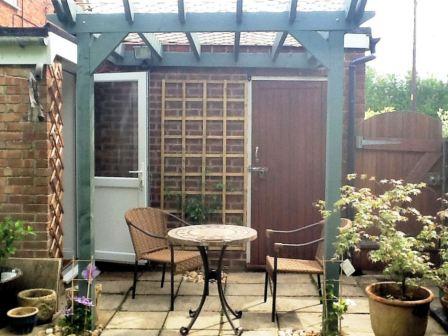 Kevin, Tony, Chris, Jeff and Kathy have really pulled out the stops with some truly wonderful examples.
We have three corner pergolas, one with the Asian-style rafters, an attached lean-to patio pergola and a seated arbour.
Kevin's patio pergola makes a real feature of his back yard area. Painting it blue and using double side rafters has made it interesting and unique. What an improvement a pergola can make to an otherwise empty area. It provides a place for sitting and catching a few rays close to the house. A morning cup of coffee will be fabulous in this cosy space!
Kevin has also built a fabulous seated arbour. This can be made from the 'Arbour Pergola Plans' in the additional plans series. Doesn't it look great!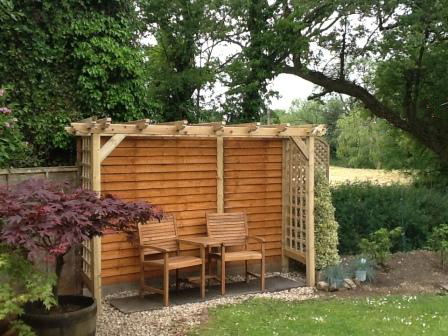 Jeff and Kathy had their Asian-style pergola built by their carpenter. He made such a good job of it, don't you think?!
Here is the original scaled drawing...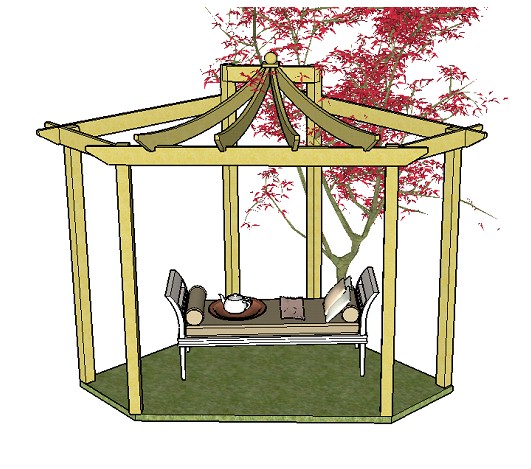 There are links to stories about these pergolas, with pictures of Chris and Tony's corner pergolas, too (not to be missed!), and hints and tips from those who built some of these wonderful creations.
For those of you who are new to the ezine - welcome! You will be able to see other pergola pictures made by readers posted in previous issues.
Let's go......
Keep the pictures coming in!




If you'd like me to cover other topics or have questions of your own, please ask.

Coming soon...
* Modern pergolas and how to integrate them into your garden design.


* How to make a canopy for your pergola.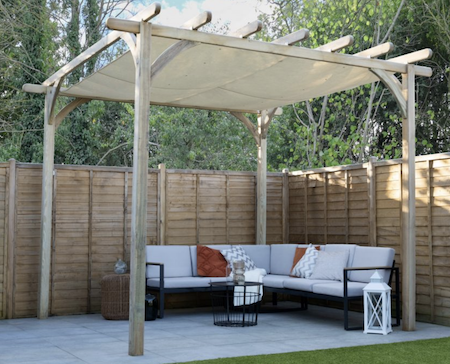 Until next time...



Be sure to check out the new pages and updates here, and the fantastic pergola and garden related offers here.

All the best, and keep in touch with what's going on in your garden,

---
For details about beautiful climbing plants, take a look here...
For free pergola plans and rafter tails visit:
Simple Pergola Plans: Design 2
Additional Plans
Attached Lean-To Pergola Plans
Seated Arbour Plans NEW!
---
If you think you may have a friend who would also like to read the 'Love Gardening!' ezine, all they need to do is fill in the sign-up form here to have it sent automatically.
Occasionally, I receive exclusive voucher codes from UK companies. I will pass these on to you, so that you can receive these discounts too! They can be found here, or from links on my blog page.
Have great fun this gardening season!


---