Hi,



Issue #23



Pam and Brian's Fantastic Attached Lean-to Pergola!
---
After our last ezine newsletter, where so many of you kindly sent in photos of your fantastic pergolas, Pam and Brian sent in one of theirs. It shows just what can be done!
Brian and Pam have used a curved rafter tail design and treated their pergola with a dark stain. The contrast between the light walls and the dark colour of the pergola sets everything off really well. It looks so good, and very inviting.
The entrance way has been very well thought out and the use of polycarbonate roofing sheets has made the area weatherproof (very useful when you have arranged a get together with friends and the sky starts to look grey!).
Their pergola is particularly interesting because you can tell quite clearly that it is made from the plans, even though they have adapted it to suit the space.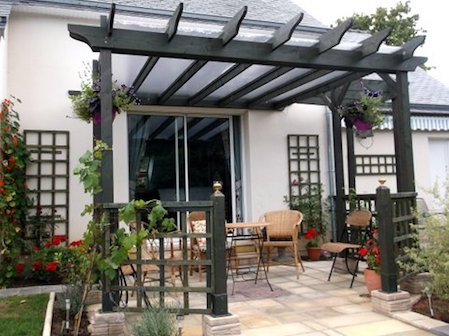 Here is the original. This type of pergola always looks good over patio windows.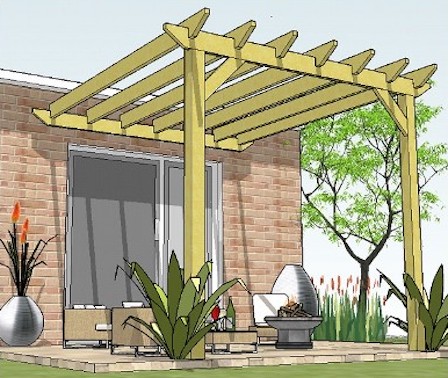 Similar pergola kits are available, too, if you would prefer all the cutting to be done for you. One comes with a canopy...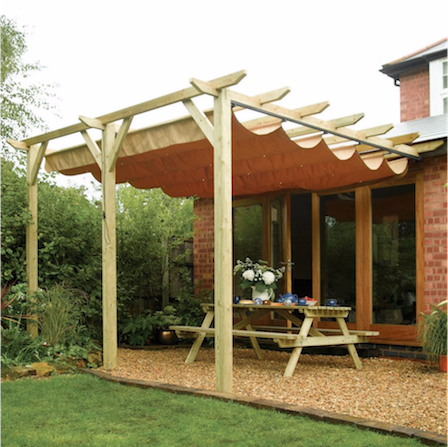 If you are thinking of having one of these in your garden, find other attached lean-to kits here.

Or find instructions about how to create your own canopy shade.

Until next time...

Be sure to check out the new pages and updates here, and the fantastic pergola and garden related offers here.

All the best, and keep in touch with what's going on in your garden,

---
For details about beautiful climbing plants, take a look here...
For free pergola plans and rafter tails visit:
Simple Pergola Plans: Design 2
Additional Plans
Attached Lean-To Pergola Plans
Sloping Pitched Roof Hexagonal Pergola PlansNEW!
Seated Arbour Plans NEW!
---
If you think you may have a friend who would also like to read the 'Love Gardening!' ezine, all they need to do is fill in the sign-up form here to have it sent automatically.
Occasionally, I receive exclusive voucher codes from UK companies. I will pass these on to you, so that you can receive these discounts too! They can be found here, or from links on my blog page.
Have great fun this gardening season!


---