Hi,


---
Love Gardening! Issue #15: How to Grow Fabulously Tasty Pea Shoots Easily...and Extremely Cheaply!
---

Wanted to share this with you, as many of my friends were very keen to learn how to grow these tasty shoots indoors, in winter. It spurred me on to create a list of all the stages involved, with step by step instructions and pictures. It's great to have a supply of your own, without having to nurture the full-grown version. And it works a treat!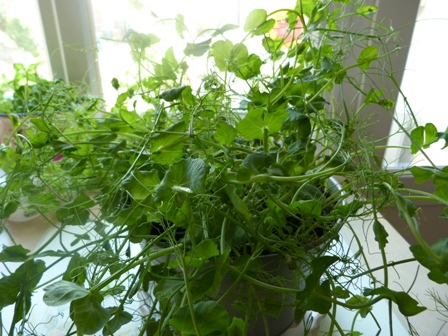 Never tried them? They have a lovely fresh, summery, pea taste and can be used in all sorts of dishes, not only to make the food taste good, but also to make it look good, too. And they're fabulously healthy, which can only be a bonus!
If you find them difficult to source and expensive to buy, as I did, growing your own can be a ideal way to have a good supply readily at hand. Feel like a snack? Just pinch one out on your way past!
They're very simple to plant and sprout super fast, so you could be enjoying them in no time at all, with the first crop being harvested in around two weeks.
If you fancy having a go, this is how to do it...
Hope you enjoy!

P.S.
It was great to hear from so many people last time: Jeff from Australia; Shell from Halifax, Nova Scotia; Paul from Edinburgh...to name but a few.
I love to hear your comments and ideas, as well as what's going on in your garden. It makes writing ezines so worthwhile. Just drop me a line


Be sure to check out the new pages and updates here.

All The Best

---
For details about beautiful climbing plants, take a look here...
For free pergola plans and rafter tails visit:
Simple Pergola Plans: Design 2 NEW!
Raised Bed Plans NEW!
Other Plans
Attached Lean-To Pergola Plans NEW!
Asian Pergola Plans NEW!
---
If you think you may have a friend who would also like to read my ezine, all they need to do is fill in the sign-up form here to have it sent automatically.
Occasionally, I receive exclusive voucher codes from UK companies. I will pass these on to you, so that you can receive these discounts too! They can be found here, or from links on my blog page.
Have great fun this gardening season!


---