Hi,



Issue #32



Christopher's Amazing Triangular Pergola!
---
Well, what an interesting few days we've had weather-wise. This is what greeted us here on Friday morning. Sunshine and snow. Stunning!
Not much going to get done in the garden this week, I fear: pergola building or otherwise.
I had just begun to venture into the garden when temperatures began to rise in February and the nights drew out, and here we are again plunged back into freezing conditions. However, variety is the spice of life, they say, and I do love a good covering of the white stuff.
Now, let's get down to the nitty gritty...Christopher's amazing triangular pergola.
What a fantastic outdoor seating area he built.
Knowing what he wanted, Christopher searched the website for inspiration. He planned everything very well so that he knew how to tackle the steps involved, and then 'did his thing'...
... and here are the fruits of his labour! Just the job for relaxing on a warm summer's day.
It's brilliant that his inspiration came from someone who had previously sent in a photo of their finished pergola, and it's astonishing how similar they are. Apart from the colour of the wood stain you really can't tell the difference.
This pergola design isn't a plan in itself; it was adapted from the corner pergola plans when Ray asked me how he could create a triangular structure.
Developing the various modifications was a really interesting and creative process, but having guided Ray through the building of his pergola, I decided to make the adaptations freely available for anyone wanting to have a go.
These modifications can be found on the triangular pergola webpage where I explain exactly how to do it.
When people send in the pictures of their newly built pergolas it makes my day! The icing on the cake, so to speak.
Having helped both Christopher and Ray through their 'builds', it's very rewarding to see photos of their wonderful creations. They both loved building the pergola. So worthwhile!
Believe it or not, Christopher's triangular pergola was adapted quite easily from the pergola the corner pergola plans are based on. Here it is. You can see how the side sections have been omitted.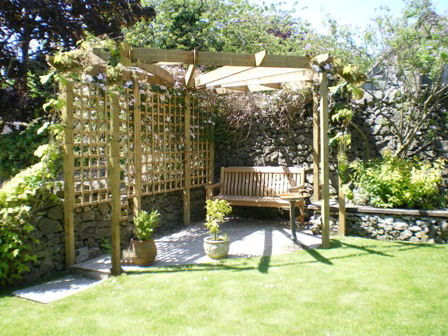 Take a look at Christopher's pergola story, the emails we exchanged about how to create it, and also see Ray's. Both are fantastic achievements.

Remember, if a pergola you built could inspire others to have a go, send in your pictures. It could make all the difference.

Upload them here. Simple. You don't need to write anything if you don't want to. We'd all love to see them!

I, for one, am looking forward to the more balmy days ahead, as I guess you are, too. Enjoy making your garden even better...and a thing of beauty!

Until next time...

All the best,



---
Coming Soon
Ponds can be a magical thing and also a great source of frustration for some homeowners if plagued with cloudy water and strings of unattractive algae choking the water, plants and pumps.

I did promise to have a word about ponds so hopefully next week we'll find out how to make your pond water crystal clear and free of blanket weed with this very simple tip. I have only just discovered it and have never seen it suggested anywhere before.

This will be a first!

If there is anything you would like help or advice with that we can tackle through the ezine, just drop me a line.

We always have a lot of new members, so introduce yourself!

Let everyone know how you are getting on in your garden, your successful projects - pergola or otherwise. You can even write your own web page here on this site and tell us all about it, with before and after pictures if you have them.

And for those who are new to 'Love Gardening!' find back issues through the link below.....


Back Issues for Love Gardening


---
Occasionally, I receive exclusive voucher codes from UK companies. I will pass these on to you, so that you can receive these discounts too!

They can be found at my page listing Fantastic Pergola Offers, or from links on my Blog Page.

Visit pergolaplans4free.co.uk

For details about beautiful climbing plants, take a look here...




If you think you may have a friend who would also like to read the 'Love Gardening!' ezine, all they need to do is fill in the sign-up form here to have it sent automatically.

Have great fun this gardening season!


---