Hi,


---
Love Gardening! Issue #14:
Newsletter
---
I don't know about you, but I'm certainly looking forward to a bit of warm weather and being able to get out into the garden. It's even trying its best to snow today!
But the snowdrops and crocus are poking their heads through, and spring is only just around the corner, so we're sure to have brilliant flashes of colour soon. (Can't wait to be eating outside in the sunshine - love it!)
Anyway, this is just a quickie, really, to let you know about several updates I've made to my website recently...
Accessing the Free Pergola Plans
If you'd like to look at any of the free pergola plans , they are now all on the same page.
Type in the password 'clematis' (all lower case) and all the plans are there for you, including the Rafter Tail Templates, Adapting the Plans and the Raised Bed Plans.

Welcome...
to all the new 'Love Gardening' readers! Why not introduce yourself, and give an idea of what you'd like to read about. If you're interested in something, you can be sure others will be, too!
For previous publications take a look at the back issues page.
New Pages
Talking of questions, I've added quite a few new pages over the winter (been snowed in for quite a bit of it!), and one is all about 'Pergola Questions'. These have come from visitors to the website who have emailed me with specific questions, like the one asking whether it's possible to make a wedding bower from the pergola plans.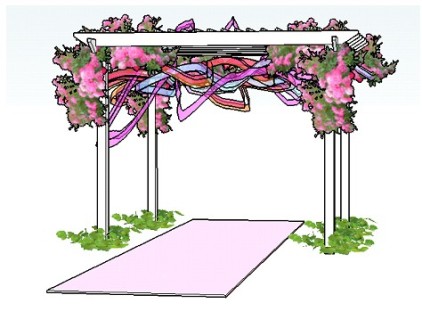 Putting the answers on a web page means that everyone can benefit. Hopefully, it'll not be long before there are more pages and more answers!

Lots of people ask me if you need planning permission for a pergola, so I decided to include this. It can seem a bit complicated (and daunting), but I've tried to simplify it, setting out the most significant points.

Other new pages and updates include all the different ways to get ideas for pergola designs, a page on manufactured pergola awnings and canopies, and new pergola pictures (including John's wonderful attached pergola lean-to!).

Check out the 'Fantastic Offers' page too. There have been some really good bargains lately, and one or two voucher codes for garden related items.

The easiest way to find all of the new pages is to follow the links from my 'Pergola Blog' page.

Coming Soon
The new Seated Arbour Plans with an integral seat and either straight or curved rafters.


A look at notching, and whether is best to notch or not to notch. (What a mouthful!).


A new webpage on growing climbing vegetables, including a vegetable that I've just started to germinate, and am really looking forward to eating! (I'll let you know how I get on and post pictures of the various stages) Hopefully it will be a cheap and easy way to enjoy these fabulously tasty greens - that's if it works!


As I mentioned earlier, I just love eating al fresco, so am thinking of creating a collection of all our recipes that are suitable for eating outdoors. It'll mean you can have your own recipe in the book!

Of course, there are mountains of fantastic cookery books. But let's get personal and discover your absolute favourites and one's that you'd love to share.

I envisage the recipes as being fairly simple, but very tasty! And anything from a gorgeous dip, to tasty bites, to the more substantial offering. The meal could be barbecued, or prepared and cooked in the kitchen. Tried and tested is the key, and pretty fail-safe too!

Let me know what you think, and if all goes well I'll get a page up on the website shortly where you can share your ideas!


I love to hear your comments and see pictures of the things you've built. It makes writing ezines so worthwhile.
Just drop me a line

All The Best



---
For details about beautiful climbing plants, take a look here...
For free pergola plans and rafter tails visit:
Simple Pergola Plans: Design 2 NEW!
Raised Bed Plans NEW!
Additional Plans
Attached Lean-To Pergola Plans NEW!
Asian Pergola Plans NEW!
---
Comments? Ideas? Feedback? I'd love to hear from you. Just reply to this ezine and tell me what you think!
If you think you may have a friend who would also like to read it, all they need to do is fill in the sign-up form here to have it sent automatically.
Occasionally, I receive exclusive voucher codes from companies that I use. I will pass these on to you so that you can receive these discounts, too!
Have great fun this gardening season.


---