Hi,



Issue #27



Exclusive Offer for Thompson and Morgan Bedding Plants

Ends Tonight!
---
I wanted you to be able to take advantage of this exclusive offer from Thomson and Morgan online plants, which ends tonight, so this is written in haste!
It is not seen on their regular pages.
This is their offer. Just click on the image below.
Our garden ready plants are selected for garden performance, straight from the nursery. We send them to you 'green' ahead of flowering (but please note some varieties may show a few blooms on delivery - pick these off when planting), which means plants will establish quickly and all their energy goes into producing better roots, so they produce more flowers throughout the season.
Each garden ready pack contains 30 plants, covering up to 30 square feet - enough to fill an average flower bed, three large hanging baskets or multiple patio containers.
LIMITED TIME OFFER - GARDEN READY MIX & MATCH
Buy any pack of 30 plants from this page and receive 2 for £25, 3 for £35 or 4 for £45!
Hurry, offer ends midnight, 24th February 2021 or while stocks last. Discount applied in your basket. Normal delivery charges apply.
Offer limited to a maximum of 8 packs per order at these special prices. Use order code TM_TAW31W.
Click on the image below to go straight to the offer.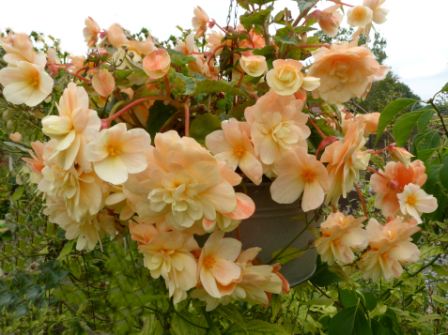 Until next time...

All the best,



---
Coming Soon
Talking of gardening on a shoestring, I have an interesting ebook that you may be interested in with lots of ideas on ecological, money saving gardening tips. People are always asking me about frugal gardening ideas - after all, we do love making something out of nothing. We'll have a look at it next time.

Most people who get overwhelmed by their gardens are battling constantly with weeds. Let's find out how to manage them, so they are not such a never-ending problem.

If there is anything you would like help or advice with through the ezine, just drop me a line.

We have a lot of new members since last time, so introduce yourself.

Let us know how you are getting on in your garden, your successful projects - pergola, or otherwise. You can even write your own web page here on this site and tell us all about it, with before and after pictures if you have them.

And for those who are new to 'Love Gardening!' find back issues through the link below.....


Back Issues for Love Gardening


---
For details about beautiful climbing plants, take a look here...
For free pergola plans and rafter tails visit:
Simple Pergola Plans: Design 2
How to Lay a Stone Patio Circle
Additional Plans
Attached Lean-To Pergola Plans
Sloping Pitched Roof Hexagonal Pergola PlansNEW!
Seated Arbour Plans NEW!
Video Tutorial - How to Lay a Patio
---
If you think you may have a friend who would also like to read the 'Love Gardening!' ezine, all they need to do is fill in the sign-up form here to have it sent automatically.
Occasionally, I receive exclusive voucher codes from UK companies. I will pass these on to you, so that you can receive these discounts too! They can be found here, or from links on my blog page.
Have great fun this gardening season!


---